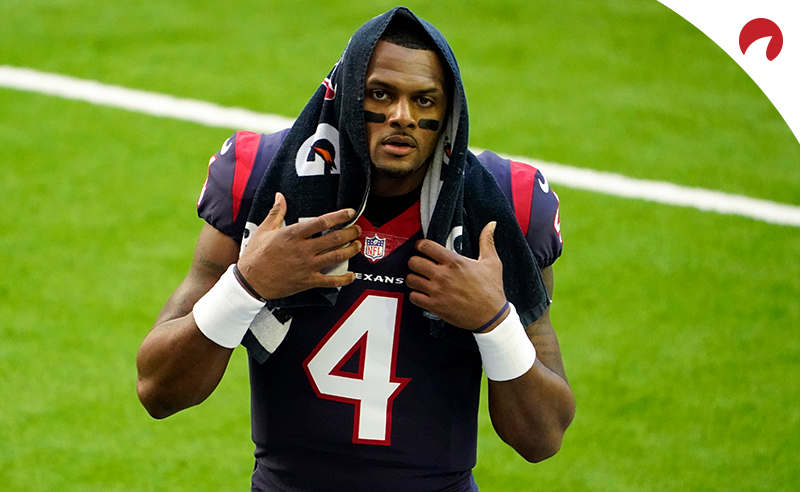 Deshaun Watson just completed the best year of his NFL career. In large part, his success this season had to do with the Houston Texans firing Bill O'Brien. Watson led the league in passing yards (4,823) after the team traded his top target, DeAndre Hopkins, to the Arizona Cardinals.
See Odds Shark's Best NFL Sites
Following rumors of a potential blockbuster trade involving Watson and Miami Dolphins rookie quarterback Tua Tagovailoa, Bovada has released odds of Deshaun Watson being traded. Watson remaining with the Texans in 2021 leads the oddsboard (-160), followed by a move to the Miami Dolphins (+300). Beginning next season with the New England Patriots, San Francisco 49ers or New York Jets (+1000) round out the top five choices on the oddsboard.
Will Deshaun Watson be Traded?
Odds on where Deshaun Watson will play in 2021

| Team | Odds |
| --- | --- |
| Houston Texans | -160 |
| Miami Dolphins | +300 |
| New England Patriots | +1000 |
| New York Jets | +1000 |
| San Francisco 49ers | +1000 |
| Indianapolis Colts | +1200 |
| Chicago Bears | +1200 |
| Washington Football Team | +2000 |
| Philadelphia Eagles | +2500 |
| Detroit Lions | +3300 |
Odds as of January 15 at Bovada
Don't Expect Watson To Go Anywhere
The Texans remain the -160 betting favorite for Deshaun Watson to remain with his current team. The mobile quarterback just spent a full season without DeAndre Hopkins, plus several games without his top target Will Fuller, and still put up his best year statistically. If Watson gets his way this offseason, the Houston Texans will sign offensive-minded coach Eric Bieniemy from the Kansas City Chiefs as their new head coach.
Bieniemy's signing would give Watson a coach that is not only well-respected in the league, but a coach that preaches offensive efficiency and will help continue to mold Watson's game, as he's done with Patrick Mahomes in Kansas City. The Texans need to sign a coach that is not only focused on the offense, but someone who also meshes well with Watson.
Will Another Team Make a Splash?
When looking at the teams on the oddsboard, there are only two that stand out as possible destinations for Watson. The first is the New England Patriots. I think Bill Belichick realized quickly what it was like to have a quarterback problem for the first time in twenty years. The Patriots struggled with Cam Newton this year, and they have already publicly said that they will not be bringing him back next season.
Belichick is notorious for pulling off great trades, so to see them offer a package of first-round picks for Watson isn't out of the realm of possibility. Depending on the number of picks involved, the Texans might not be willing to trade him inside the AFC.
Watson for Darnold?
The other option I like is another AFC team and that's the New York Jets at +1000 odds. This makes the most sense as it could be a change of scenery for both Watson and Sam Darnold. You'd have to imagine that any trade to the Jets would revolve around Darnold, plus a pick. This would probably be the best offer the Texans would receive, and Darnold by no means is a project; he's a solid quarterback who hasn't had anything around him to help him succeed.
Does Watson Have a Future in Houston?
At the end of the day I think Watson will remain with the Texans. He just signed a brand new four-year ($150 million) extension back in September. There is a reason that the oddsmakers are speculating on a possible move, but take it with a grain of salt. Once the Texans hire a new coach, making Watson happy will be the main focus.