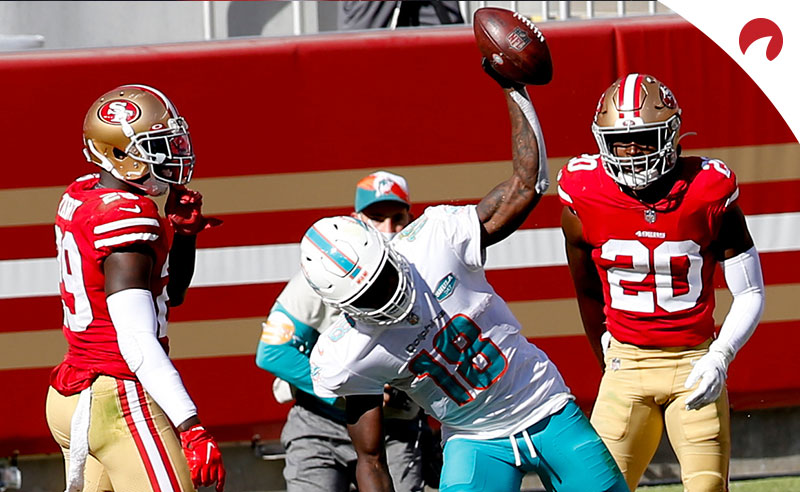 Because the Week 5 game between the Buffalo Bills and Tennessee Titans was rescheduled to Tuesday night, there will be no Thursday Night Football contest in Week 6. Looking for a one-stop shop when it comes to predictions on the gridiron this week? You've come to the right place.
Our NFL Betting Guide is here to break down the upcoming matchups to assist you in your handicapping. For outright Super Bowl 55 odds, check out our Super Bowl Futures article. To find the sportsbook that's right for you when it comes to NFL betting, visit our Best NFL Sites page.
Odds courtesy of Bovada
Atlanta Falcons vs Minnesota Vikings -4, 54.5
Prediction: Atlanta 24, Minnesota 21
The Falcons begin the post-Dan Quinn era against the Vikings this week, and for both fans and bettors of this team, it's a long time coming to see a new face in charge. With Raheem Morris taking over, I like the Falcons to collect their first win of the season.
Minnesota has had success running the ball even without Dalvin Cook, and it sounds like the star running back will miss this week's game due to an injury he suffered in Week 5. The Falcons offense is due for a breakout game – I think they have it here.
Houston Texans vs Tennessee Titans -3, 53
Prediction: Tennessee 36, Houston 23
The Texans notched their first win of the season against the Jaguars last week, but the undefeated Titans present a much stronger test than Jacksonville. Tennessee didn't show any signs of rust after missing Week 4, lighting up the Bills 42-16 in a rare Tuesday night game.
Tennessee continues to thrive under Ryan Tannehill, and Derrick Henry is a force to be reckoned with on the ground. The Texans don't have the capabilities to both stop the Titans on defense and keep up with them on offense.
Baltimore Ravens vs Philadelphia Eagles +7.5, 47.5
Prediction: Baltimore 29, Philadelphia 13
Baltimore hasn't looked the part of the team that won 14 games a year ago. The Ravens have yet to have a statement win – last week's trouncing of the lowly Bengals doesn't count – and a Week 6 clash with the Eagles should be the remedy for that.
Cincinnati Bengals vs Indianapolis Colts -8, 46.5
Prediction: Indianapolis 29, Cincinnati 10
The Colts defense ranks as one of the best units in the NFL, but the offense hasn't been able to match that success under Philip Rivers.
Indianapolis lost to the Browns last week and Rivers didn't play well, but a matchup against a porous Bengals defense is just what the doctor ordered to get the 38-year-old back on track. The Bengals have a bright future under Joe Burrow, yet their weak offensive line isn't giving either him or Joe Mixon a chance to make plays.
Detroit Lions vs Jacksonville Jaguars +3, 54.5
Prediction: Detroit 30, Jacksonville 28
The Lions will be well-rested after coming off a bye, and this game presents a great chance for Matthew Stafford to finally put up some big numbers. Stafford hasn't played poorly, but he's not producing in a way that Lions fans would like him to.
Simply put, Jacksonville can't stop anybody on defense. The Jaguars offense will be able to move the ball and score some points, but their defense will ultimately let them down late in this one.
Washington Football Team vs New York Giants -2.5, 43
Prediction: Washington 16, New York 9
In what's shaping up to be the worst game of the week, the winless Giants have their best chance of the campaign to get in the W column against their NFC East rival.
Washington has some uncertainty at the QB position after Kyle Allen went down last weekend. If Allen can suit up in Week 6, I think he'll do enough to lead Washington to a win in a forgettable matchup.
Chicago Bears vs Carolina Panthers -1.5, 44.5
Prediction: Chicago 24, Carolina 17
The Panthers continue to rise above expectations without Christian McCaffrey and face a winnable game against Nick Foles and the Bears this weekend. Chicago barely got by Tampa Bay in Week 5, but a win is a win in the NFL and the Bears have four of them.
Carolina's passing defense has been stellar, but the rushing defense is quite the opposite. David Montgomery is in a great spot to carry the load for the Bears offense and should put up some big numbers.
Cleveland Browns vs Pittsburgh Steelers -3, 51
Prediction: Pittsburgh 31, Cleveland 24
The Browns haven't won in Pittsburgh in 17 years, but this week's game is their best opportunity to buck that trend. Cleveland is averaging 38 points per game during its four-game winning streak and leads the NFL in rushing yards.
Those are impressive numbers, but I think the Steelers keep the Browns' futility in Pittsburgh going in Week 6. Ben Roethlisberger should find plenty of success through the air, and that's going to be the difference-maker in this one.
Denver Broncos vs New England Patriots -10, 45
Prediction: New England 33, Denver 14
In a game that was rescheduled because of COVID-19, the extra week of rest will benefit the Patriots in a big way. New England is hoping to have Cam Newton and Stephon Gilmore back for this one, and if both players can return to action after contracting the virus, the Pats are in line for a big day.
New York Jets vs Miami Dolphins -9.5, 47
Prediction: Miami 28, New York 7
The 0-5 Jets seem to have their eyes on the 2021 NFL Draft already, which makes sense considering Trevor Lawrence is available for the taking. New York is spinning its wheels under head coach Adam Gase, and Le'Veon Bell is no longer in town after getting released on Wednesday.
Miami is playing well under Ryan Fitzpatrick and is clearly the better team in this matchup. The Dolphins win big and the Jets' misery continues.
Green Bay Packers vs Tampa Bay Buccaneers +1, 55
Prediction: Green Bay 36, Tampa Bay 33
Aaron Rodgers vs Tom Brady is a quarterback matchup for the ages, and football fans will be treated to a renewal in the rivalry between two of the best QBs of all time.
Green Bay is coming off its bye, while Tampa Bay played last Thursday. The Packers offense is rolling and there's a good chance Davante Adams will return after missing the past few weeks due to an injury. If he plays, Adams will be the deciding factor in a potential shootout in the Sunshine State.
Los Angeles Rams vs San Francisco 49ers +3.5, 51.5
Prediction: Los Angeles 21, San Francisco 13
The banged-up 49ers have been ravaged by injuries so far this season and have struggled to remain competitive as a result. San Fran is a mess on both sides of the ball right now, and starting QB Jimmy Garoppolo getting pulled last week was a tough sign after attempting to play while recovering from an ankle injury.
Jared Goff should have no problem taking care of business against the San Francisco pass defense. The 49ers' struggles continue.
Kansas City Chiefs vs Buffalo Bills +3.5, 57.5
Prediction: Kansas City 37, Buffalo 29
Both of these teams are coming off bad losses in which they played well below their capabilities. The Bills defense allowed the Titans to hang 42 points on them – a bad sign considering gunslinger Patrick Mahomes is in town. On the other side of the coin, the Chiefs defense wasn't exactly up to snuff either, as Derek Carr and the Raiders lit them up for 40 of their own.
I think the Chiefs are in a good spot to regroup in Week 6. Take the Chiefs to both win outright and cover the number as road faves.
Arizona Cardinals vs Dallas Cowboys +1.5, 55
Prediction: Arizona 26, Dallas 17
Andy Dalton is set to take over the reins of the Cowboys offense after Dak Prescott suffered a season-ending ankle injury last week. The Cowboys have bigger problems, though, as their defense ranks as one of the worst units in the league across the board.
Kyler Murray and DeAndre Hopkins should have plenty of room to work in Week 6, and the Cowboys offense will struggle to get going as the Cardinals stack the box against Ezekiel Elliott while forcing Dalton to beat them through the air. Take the Cards here.