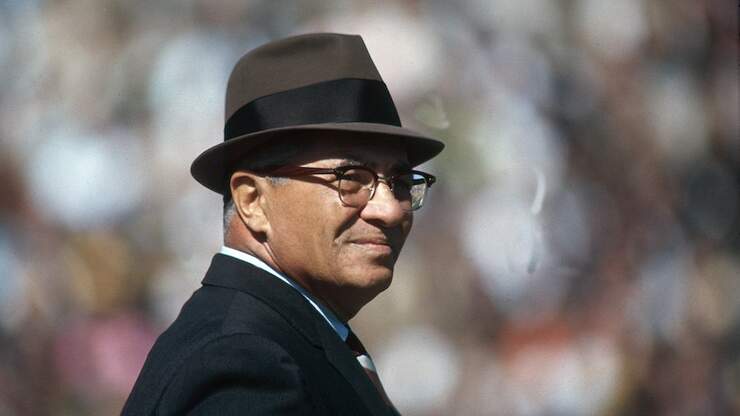 The Super Bowl LV pregame ceremony featured a major surprise that seemed to catch many fans off guard.
The ceremony included a hologram of late Pro Football Hall of Fame coach Vince Lombardi, who led the Green Bay Packers to victories in the first two Super Bowls and is the namesake for the trophy given to the winning team.
The Lombardi hologram, featuring the coach in his trademark coat and hat, appeared on the jumbotron at Raymond James Stadium in Tampa and broadcast on CBS to the millions of viewers watching at home.
Naturally, that made it a trending topic on Twitter leading up to the Big Game, with many impressed by the monologue, but even more taking the opportunity to fire off jokes.
"i did not have "Vince Lombardi hologram" on my super bowl bingo card," Twitter user @digbysfriend shared.
Here are several other notable tweets in response to the Lombardi hologram.
Super Bowl LV is being played between the Kansas City Chiefs and Tampa Bay Buccaneers at Raymond James Stadium. The Bucs are the first team in NFL history to play in a Super Bowl in their home stadium.
Buccaneers quarterback Tom Brady is playing in his 10th Super Bowl, having appeared in nine as a member of the New England Patriots, before signing with Tampa Bay in March.
The Chiefs defeated the San Francisco 49ers, 31-20, in last year's Super Bowl.
Photo: Getty Images