Arguably the most dominant golfer of our generation, Tiger Woods continues to be an influential figure in pro sports and in the betting industry. He's routinely one of the PGA golfers most wagered on any time he sets foot on the course.
Considering his overwhelming popularity and golf's place in our hearts, Tiger fans were extremely worried when he suffered multiple leg injuries in a single-car accident in Los Angeles on February 24.
See Odds Shark's Best Golf Sites
Woods suffered "comminuted open fractures" to both the upper and lower portions of his tibia and fibula in his right leg, as well as damage to the ankle bones and trauma to the muscle and soft tissue of the leg, according to an update on his Twitter account shortly after the accident.
Here's a look at the top props on the board in Tiger Woods odds at Bovada for him to make a comeback in 2021.
For more information on the various ways to wager on golf, check out our How to Bet on Golf page. To keep up to date on the latest happenings on the PGA Tour from a betting perspective, head over to our Golf Hub.
Tiger Woods Odds
Woods, who told sheriff's depuites after the accident that he could not remember driving and didn't know how the crash happened, is clearly not focused on golf right now. Police have said there was no evidence that he was impaired by drugs or alcohol.
Bettors who are expecting Woods to make a quick recovery and return to action on the PGA Tour in 2021 might end up being disappointed.
When Will Tiger Woods Play Again?
Oddsmakers aren't expecting Eldrick back any time soon, as the odds on him playing in a tournament on the tour in 2021 sit at +1600 in Tiger Woods odds, with the chances of him winning an event in 2021 at +3300.
Since Woods was transported from Harbor-UCLA Medical Center to Cedars-Sinai Medical Center three days after the crash, we haven't gotten many specifics – and likely won't again – about his treatment and recovery.
It's all but certain that Woods can't yet bear any weight on his right leg. With high-speed impact injuries, the damage to bones and soft tissue and resulting pain is almost always far more severe than with similar-sounding injuries during athletic competition. Most experts agree that Woods will likely need more surgical procedures in his recovery process.
A good example of a recent high-profile compound-fracture leg injury can be found in the NFL, when former Washington Football Team quarterback Alex Smith suffered a broken leg in a 2018 game.
Smith required 17 additional surgeries before returning to play last season. That doesn't mean Woods will be in the same boat, as golf is much less strenuous on the body than football, but it's likely going to be a long road for Tiger to get back on the links.
See Odds Shark's Top Books in Our Sportsbook Review Page
Odds as of March 8 at Bovada
Odds as of March 8 at Bovada
Can Tiger Return to Glory in 2022?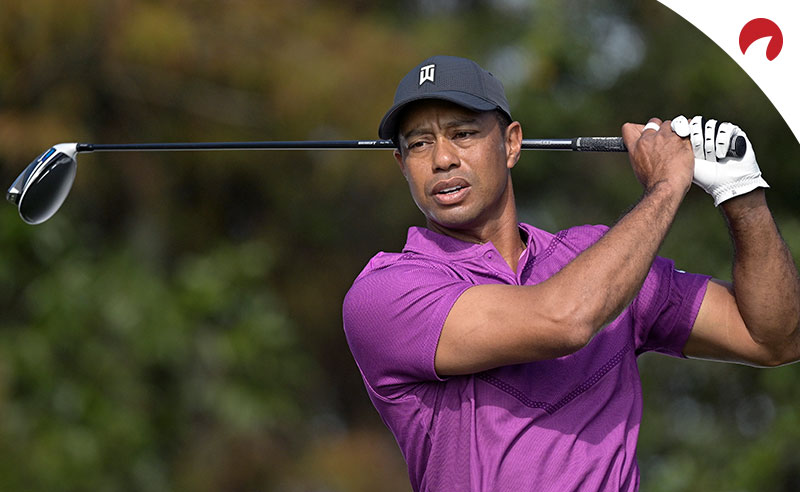 Considering it might be far too much to ask Woods to come back in 2021, it's worth looking ahead to next year. It's important to remember that Woods' long injury history was starting to catch up to him and impact his ability to consistently compete like he used to, and that was before the car accident.
At Bovada, the sportsbook is giving him EVEN odds to play in a PGA Tour tournament in 2022 in its Tiger Woods odds. The chances of him winning any tour event in 2022 sit at +1500, and he's +1600 to play in all four majors next season.
Out of all the prop bets on the board for the 2022 campaign, sharp bettors might be wise to look at the EVEN odds for Woods to participate in a tournament in 2022.
Woods is known for his extremely competitive nature, and as long as he's eventually cleared by doctors, he's going to do anything he can to get back into action. A return in the early part of 2022 is incredibly unlikely, but the back half of the season could be more attainable.
Woods, who's +300 to play in the 2022 Masters, is a +10000 long shot to win next year's Masters tournament in Tiger Woods odds.
Odds as of March 8 at Bovada
Odds as of March 8 at Bovada
Odds as of March 8 at Bovada
Odds as of March 8 at Bovada
Odds as of March 8 at Bovada
Odds as of March 8 at Bovada
---
Betting on PGA and Tiger Woods Futures
If you're betting on PGA futures and you decide to wager on Tiger Woods to win the Masters, you would likely see odds listed like this at your sportsbook:
Since you're betting on events that will happen in the future, this is called a Futures Bet. This type of wager is slightly different than a moneyline bet because it doesn't have an obvious favorite indicated by the minus odds symbol (-). That means the golfer listed with the lowest odds is considered the favorite. In this instance, it's Rory McIlroy at +700.
If you were to bet $100 on Woods prior to the tournament and he ends up winning the Masters, you'd get a payout of $1,300 – your original $100 is returned, along with your winnings of $1,200. On the other hand, if you wagered that same $100 on Brooks Koepka and he returns to form to take the green jacket, you'd get a payout of $1,500 – you get your $100 back, plus your profit of $1,400.
Our Odds Calculator can help you determine how much you'd pocket depending on the odds and the amount bet. You can also get up to speed on wagering on PGA golf by checking out our How to Bet on Golf guide.