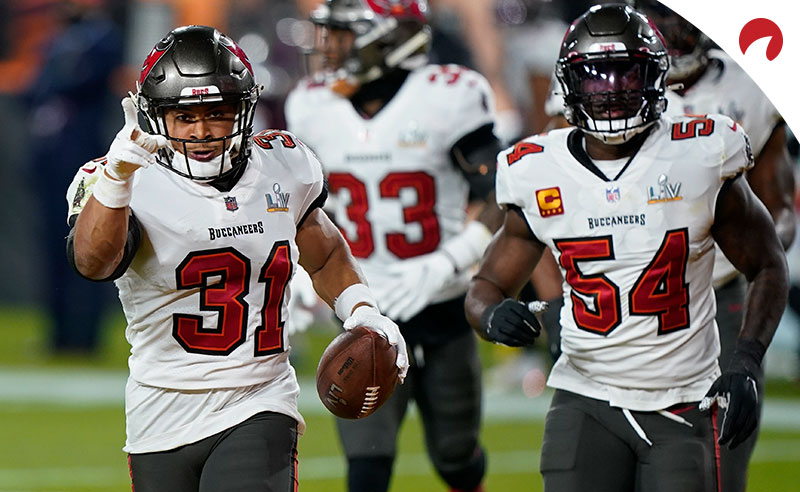 The dust has barely settled on the Tampa Bay Buccaneers' 31-9 win over the Kansas City Chiefs in Super Bowl 55, but odds are already out on which NFL team will win Super Bowl 56.


See Odds Shark's Best NFL Sites

At Bovada, the Chiefs are the very early +500 betting favorites in Super Bowl 56 odds. The Green Bay Packers (+1100), Buffalo Bills (+1200), Buccaneers (+1200), and Los Angeles Rams (+1300) comprise the top five teams with the best chances to lift the Lombardi Trophy in 2022 at the shop. 

Here's a look at the odds for all 32 NFL clubs to win Super Bowl 56:

Kansas City Chiefs Lead 2022 Super Bowl Odds

Odds to Win Super Bowl 56

| Team | Odds |
| --- | --- |
| Kansas City Chiefs | +500 |
| Green Bay Packers | +1100 |
| Buffalo Bills | +1200 |
| Tampa Bay Buccaneers | +1200 |
| Los Angeles Rams | +1300 |
| Baltimore Ravens | +1600 |
| San Francisco 49ers | +1700 |
| New Orleans Saints | +2200 |
| Seattle Seahawks | +2200 |
| Cleveland Browns | +2500 |
| Indianapolis Colts | +2500 |
| Tennessee Titans | +2800 |
| Miami Dolphins | +3000 |
| New England Patriots | +3000 |
| Dallas Cowboys | +3300 |
| Pittsburgh Steelers | +3300 |
| Los Angeles Chargers | +4000 |
| Arizona Cardinals | +4500 |
| Minnesota Vikings | +5000 |
| Carolina Panthers | +5000 |
| Philadelphia Eagles | +5500 |
| Las Vegas Raiders | +5500 |
| Atlanta Falcons | +5500 |
| Chicago Bears | +6000 |
| Washington Football Team | +6000 |
| New York Giants | +7000 |
| Denver Broncos | +8000 |
| Cincinnati Bengals | +8000 |
| Jacksonville Jaguars | +10000 |
| New York Jets | +10000 |
| Houston Texans | +10000 |
| Detroit Lions | +12500 |
Odds as of February 7 at Bovada
Super Bowl 55 Champion Buccaneers Looking to Go Back to Back
Tampa Bay, which entered Super Bowl 55 as 3-point underdogs, was dominant from start to finish against Kansas City. The Bucs successfully cashed tickets for Tampa Bay futures bettors at their +1200 preseason price in an impressive display at Raymond James Stadium.
Prior to Brady's arrival, the Bucs hadn't made the postseason since 2007. What Tampa Bay accomplished this year is incredibly impressive, as the Buccaneers claimed the second Super Bowl in franchise history in dominant fashion over the reigning-champion Chiefs.
Acquisition of Stafford Has Rams Super Bowl Odds Skyrocketing


Since the franchise moved back to California 2016, the Rams have been pulling out all the stops in order to become a true Super Bowl contender.
Whether it's been through big signings in free agency or trades, it's clear the Rams believe their window to win a championship is now.

General manager Les Snead made the biggest blockbuster trade of his tenure on January 31, as the Rams acquired veteran quarterback Matthew Stafford from the Detroit Lions. Going back to the Lions are a pair of first-round picks, a third-round pick and QB Jared Goff.
Since the Rams made an appearance in Super Bowl 53, Goff has simply not played at a high enough level to lead L.A. back to the big game. The addition of Stafford, the Lions' all-time leader in every major quarterback record, makes the Rams look downright scary in the NFC.
It's clear oddsmakers agree, evidenced by Los Angeles' +1300 odds to win Super Bowl 56. The NFC West was already the toughest division in football, and it's about to get even more competitive with Stafford in the Golden State.
---
When it comes to betting on the NFL, odds are available before teams take their first regular-season snaps. You can even bet on a potential Super Bowl winner in August. Certain squads will always be contenders, especially if they won the previous year. When bookmakers set the lines, they look at offseason roster moves, coaching changes and past on-field performance. To bet on the odds for the Super Bowl, you'd make a futures bet.
What is an NFL Futures Bet?
This is a bet in which you would look at the odds for the Super Bowl, weeks or sometimes months in advance of the big game, and decide which team you think will win. Let's say you want to make a futures bet today. At your sportsbook of choice, the odds might look something like this:
If this were a moneyline bet, you'd be able to see which team is the clear favorite because it would have a minus sign beside its odds (-). For Super Bowl futures, the team with the lowest odds is favored to win the NFL championship, and the rest are underdogs.
Let's say you feel strongly about the Saints and believe they're going to win it all. If you were to bet $100 on them and they did triumph, you'd get a payout of $650 – your original $100 is returned along with your winnings of $550. Our Odds Calculator will show you how much you'd win based on the odds and amount bet.
The odds change throughout the season as key players get injured, trades happen and coaches get fired. Line movements for NFL futures happen weekly, so if you see odds you like, it's best to bet on them ASAP. The Packers may be +900 to win the Super Bowl in October but after a surge in November their odds could jump to +400 and you'll make less money than you would if you'd bet them at +900.