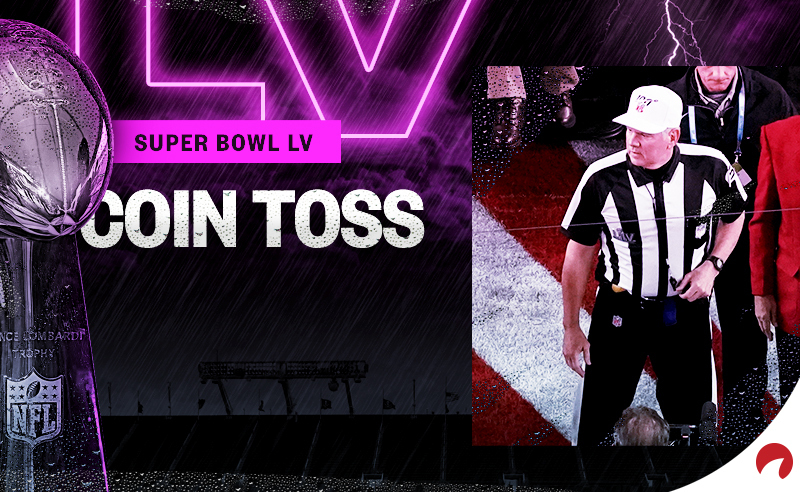 UPDATE: It was heads! Kansas City Chiefs win the toss and have deferred to the Tampa Bay Buccaneers in Super Bowl 55.
One of the best parts of the Super Bowl each year is the massive number of prop bets available for the average bettor. Niche props like the national anthem runtime or what color of Gatorade will be poured on the winning coach are fairly popular but the pregame coin toss is always a massive draw because there is no true edge.
Whether you're a seasoned professional bettor or making your first visit to a sportsbook, no one can resist a legitimate 50-50 proposition bet like the coin toss that requires no true skill to pick the winner. It's one of the few bets you can make with minimal effort and basic handicapping.
What Are Coin Toss Odds for Super Bowl 55?
Result of Coin Toss For Super Bowl 55

| Option | Odds |
| --- | --- |
| Heads | -110 |
| Tails | -110 |
Odds as of February 7 at BetUS
What Is A Coin Toss Prop Bet?
Short for proposition, a prop is a bet that doesn't necessarily correlate with the final outcome of the game. The coin flip wager is considered more fun because it relies less on data and stats and more on chance.
You don't have to check ATS standings or betting trends as you would with other sports betting options. Plus, teams that win the toss don't always win the Super Bowl. For example, in Super Bowl 54, the San Francisco 49ers won the toss but lost the game to the Kansas City Chiefs.
While some NFL and Super Bowl bets require intense research, the coin toss yields one of two results, and the odds will reflect that. You either pick HEADS or TAILS. That's it. There's a 50-50 chance that the coin lands on what you picked. You don't have to factor in an NFL player's past performance or coaching decisions. You can, however, look at historical data – we'll cover that below – to determine if you want to pick HEADS or TAILS.
There is no clear favorite for this bet since there is a 50-50 chance of winning for each side. If you put $25 on HEADS and that's how the coin lands, you'd get a payout of $48.81 – your original $25 is returned along with your winnings of $23.81. The same wager on a winning TAILS bet would net you the exact same payout since the odds are identical. To know how much you'd win based on the odds and amount of money you bet, check out our Odds Calculator.
Coin Toss
Betting History
Jacob Bernoulli, a 17th-century Swiss mathematician, analyzed the statistics of random experiments with two possible outcomes. His Bernoulli trials became world-famous, mostly because there was nothing to do back then except math.
If Bernoulli were alive today, he would love football, since every game during the NFL regular season, playoffs and Super Bowl starts with a Bernoulli trial (coin toss).
Since the first Super Bowl, HEADS has come up 25 times and TAILS 29. The winner of the Super Bowl has won the coin toss 24 times with HEADS coming up 12 times (half). Bernoulli would consider this a success since it proves that the coin toss is random and won't always land the same way for each game.
Does the Coin Toss
Impact the Super Bowl?
What Team Will Win Coin Toss In Super Bowl 55?

| Option | Odds |
| --- | --- |
| Kansas City Chiefs | -105 |
| Tampa Bay Buccaneers | -105 |
Odds as of February 7 at Bovada
Will Team That Calls Coin Toss In Super Bowl 55 Be Correct?

| Option | Odds |
| --- | --- |
| Yes | -115 |
| No | -105 |
Odds as of February 7 at Bovada
The coin flip can have an impact on the game. Generally, teams that win the coin toss choose to receive the ball. When you receive the ball, you get the first scoring chance. Even if you don't score a touchdown, you can still move the ball downfield enough to get into field-goal range and at least put three points on the board.
Unless, of course, the other team's defense is that good and you can't move the ball at all. This is possible considering it's the Super Bowl and you don't get there with a subpar defense. If you're the underdog team, you want to win the toss and try to throw up some points on your opponent on your first drive to give yourself some padding.
Odds as of February 7 at Bovada
Odds as of February 7 at BetOnline
If Chiefs win Coin Toss For Super Bowl 55, what will they choose?

| Option | Odds |
| --- | --- |
| Defer | -2500 |
| Receive | +900 |
Odds as of February 7 at BetOnline
---
All-Time Super Bowl
Coin Toss Results
| Super Bowl # | Scores | Coin Toss | CT Winner | Game Winner |
| --- | --- | --- | --- | --- |
| Super Bowl 1 | Green Bay 35, Kansas City 10 | Heads | Packers | Packers |
| Super Bowl 2 | Green Bay 33, Oakland 14 | Tails | Raiders | Packers |
| Super Bowl 3 | NY Jets 16, Baltimore 7 | Heads | Jets | Jets |
| Super Bowl 4 | Kansas City 23, Minnesota 7 | Tails | Vikings | Chiefs |
| Super Bowl 5 | Baltimore 16, Dallas 13 | Tails | Cowboys | Colts |
| Super Bowl 6 | Dallas 24, Miami 3 | Heads | Dolphins | Cowboys |
| Super Bowl 7 | Miami 14, Washington 7 | Heads | Dolphins | Dolphins |
| Super Bowl 8 | Miami 24, Minnesota 7 | Heads | Dolphins | Dolphins |
| Super Bowl 9 | Pittsburgh 16, Minnesota 6 | Tails | Steelers | Steelers |
| Super Bowl 10 | Pittsburgh 21, Dallas 17 | Heads | Cowboys | Steelers |
| Super Bowl 11 | Oakland 32, Minnesota 14 | Tails | Raiders | Raiders |
| Super Bowl 12 | Dallas 27, Denver 10 | Heads | Cowboys | Cowboys |
| Super Bowl 13 | Pittsburgh 35, Dallas 31 | Heads | Cowboys | Steelers |
| Super Bowl 14 | Pittsburgh 31, LA Rams 19 | Heads | Rams | Steelers |
| Super Bowl 15 | Oakland 27, Philadelphia 10 | Tails | Eagles | Raiders |
| Super Bowl 16 | San Francisco 26, Cincinnati 21 | Tails | 49ers | 49ers |
| Super Bowl 17 | Washington 27, Miami 17 | Tails | Dolphins | Redskins |
| Super Bowl 18 | LA Raiders 38, Washington 9 | Heads | Raiders | Raiders |
| Super Bowl 19 | San Francisco 38, Miami 16 | Tails | 49ers | 49ers |
| Super Bowl 20 | Chicago 46, New England 10 | Tails | Bears | Bears |
| Super Bowl 21 | NY Giants 39, Denver 20 | Tails | Broncos | Giants |
| Super Bowl 22 | Washington 42, Denver 10 | Heads | Redskins | Redskins |
| Super Bowl 23 | San Francisco 20, Cincinnati 16 | Tails | 49ers | 49ers |
| Super Bowl 24 | San Francisco 55, Denver 10 | Heads | Broncos | 49ers |
| Super Bowl 25 | NY Giants 20, Buffalo 19 | Heads | Bills | Giants |
| Super Bowl 26 | Washington 37, Buffalo 24 | Heads | Redskins | Redskins |
| Super Bowl 27 | Dallas 52, Buffalo 17 | Heads | Bills | Cowboys |
| Super Bowl 28 | Dallas 30, Buffalo 13 | Tails | Cowboys | Cowboys |
| Super Bowl 29 | San Francisco 49, San Diego 26 | Heads | 49ers | 49ers |
| Super Bowl 30 | Dallas 27, Pittsburgh 17 | Tails | Cowboys | Cowboys |
| Super Bowl 31 | Green Bay 35, New England 21 | Heads | Patriots | Packers |
| Super Bowl 32 | Denver 31, Green Bay 24 | Tails | Packers | Broncos |
| Super Bowl 33 | Denver 34, Atlanta 19 | Tails | Falcons | Broncos |
| Super Bowl 34 | St. Louis 23, Tennessee 16 | Tails | Rams | Rams |
| Super Bowl 35 | Baltimore 34, NY Giants 7 | Tails | Giants | Ravens |
| Super Bowl 36 | New England 20, St. Louis 17 | Heads | Rams | Patriots |
| Super Bowl 37 | Tampa Bay 48, Oakland 21 | Tails | Buccaneers | Buccaneers |
| Super Bowl 38 | New England 32, Carolina 29 | Tails | Panthers | Patriots |
| Super Bowl 39 | New England 24, Philadelphia 21 | Tails | Eagles | Patriots |
| Super Bowl 40 | Pittsburgh 21, Seattle 10 | Tails | Seahawks | Steelers |
| Super Bowl 41 | Indianapolis 29, Chicago 17 | Heads | Bears | Colts |
| Super Bowl 42 | NY Giants 17, New England 14 | Tails | Giants | Giants |
| Super Bowl 43 | Pittsburgh 27, Arizona 23 | Heads | Cardinals | Steelers |
| Super Bowl 44 | New Orleans 31, Indianapolis 17 | Heads | Saints | Saints |
| Super Bowl 45 | Green Bay 31, Pittsburgh 17 | Heads | Packers | Packers |
| Super Bowl 46 | NY Giants 21, New England 17 | Heads | Patriots | Giants |
| Super Bowl 47 | Baltimore 34, San Francisco 31 | Heads | Ravens | Ravens |
| Super Bowl 48 | Seattle 43, Denver 8 | Tails | Seahawks | Seahawks |
| Super Bowl 49 | New England 28, Seattle 24 | Tails | Seahawks | Patriots |
| Super Bowl 50 | Denver 24, Carolina 10 | Tails | Panthers | Broncos |
| Super Bowl 51 | New England 34, Atlanta 28 (OT) | Tails | Falcons | Patriots |
| Super Bowl 52 | Philadelphia 41, New England 33 | Heads | Patriots | Eagles |
| Super Bowl 53 | New England 13, LA Rams 3 | Tails | Rams | Patriots |
| Super Bowl 54 | Kansas City 31, San Francisco 20 | Tails | 49ers | Chiefs |
| Super Bowl 55 | N/A | N/A | N/A | N/A |