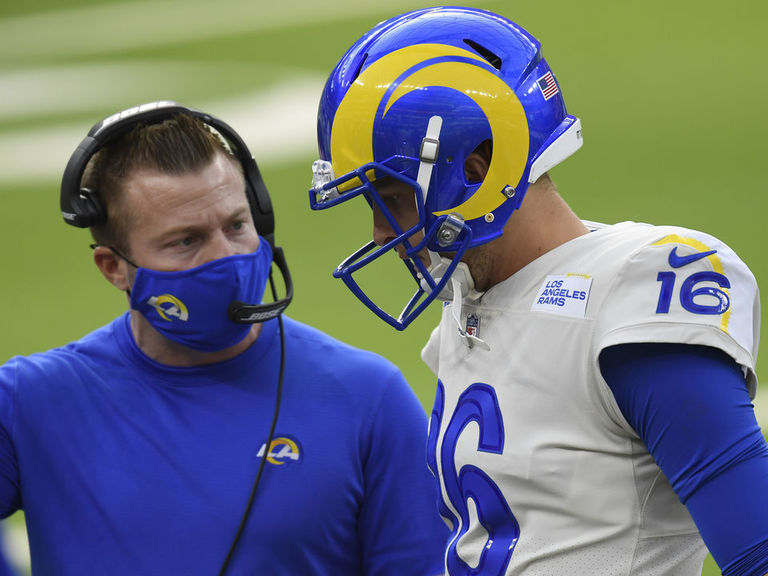 Los Angeles Rams head coach Sean McVay and quarterback Jared Goff may not be on the same page entering the 2021 offseason.
The relationship between the two isn't great but can still be fixed, sources told NFL Network's Steve Wyche.
"The people I've spoken to said basically at this moment the relationship with Goff and McVay (is) not great. They need 'marriage counseling' is what one person said to me. I think this is something that they're going to be able to work through, but there's got to be some healing," Wyche said.
McVay has been noncommittal on Goff as the team's quarterback since the Rams were eliminated from the postseason. The head coach described the passer only as the quarterback for "right now" and said "everything is being evaluated" when it comes to the franchise's future under center.
The 26-year-old stumbled down the stretch, finishing with a passer rating under 90 in four of his last seven games.
Goff missed the regular-season finale due to thumb surgery but returned for the playoffs. He was initially forced to sit behind John Wolford for the Rams' wild-card game before entering due to an injury to Wolford.
Drafted with the first overall pick in 2016, Goff found success to begin his career. He led the Rams to a Super Bowl appearance during his third season and signed a four-year, $134-million contract in 2019.
The Rams will incur a $65.5-million dead cap hit if they cut Goff this offseason, with that figure dropping to $30.9 million the following year, according to Spotrac. The contract includes a potential separation in 2023 at the cost of $8.6 million.