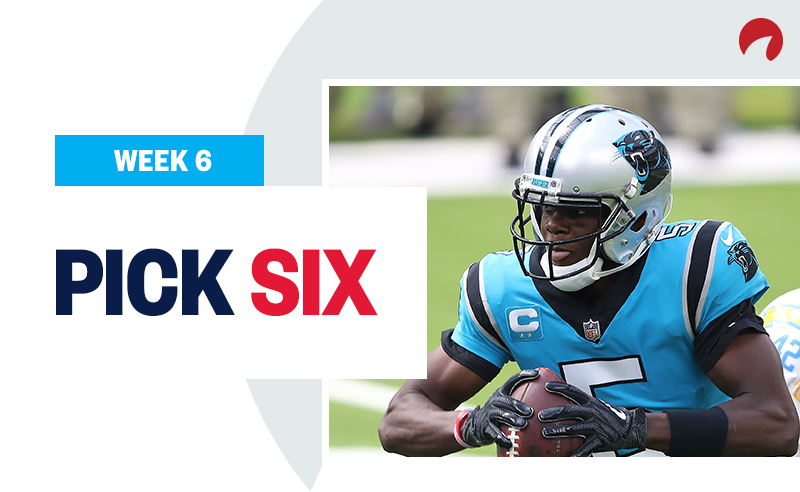 Another week of going 3-3 with my expert NFL picks for Week 5, and while I was able to cash in on one underdog, my three losing picks were plus spreads, so we're going to reverse course to try to ensure a profitable week. With Week 6 of the NFL on tap, look no further than The Pick Six for free expert NFL picks and advice for the 2020 NFL season.
See Odds Shark's Best NFL Picks Sites
For Week 6, you may notice some of my picks can be viewed as square but I'd rather be a square and win than a contrarian and lose. That's why I'll understand if you want to fade because I'm taking all favorites and one total that I'm sure is going to go OVER.
Week 6 NFL Picks
If this is your first time checking out my NFL picks or you aren't sure what to expect, here's how it works: Each week during the 2020 NFL season, I give you my six favorite plays on the moneyline, spread or total. All NFL betting odds below are courtesy of the latest lines as of this writing and The Pick Six will be presented weekly right up to Super Bowl 55.
If you're looking for my prop bets or touchdown scorer picks, follow me on Twitter at @GDAWG5000 and all my prop picks will be there.
---
Pittsburgh Steelers -3.5 vs Cleveland Browns (-110)
This is my best bet in the Capper Cup for Week 6. I think we're severely underrating the Steelers in this spot. Pittsburgh has been a well-oiled machine offensively in 2020 and that starts with QB Ben Roethlisberger, who should be the favorite to win NFL Comeback Player of the Year.
Roethlisberger has been excellent in his return with 10 passing touchdowns to only one interception and has a plethora of receiving weapons that can get open on any secondary. Then there's the Steelers defense that should have a field day vs Browns QB Baker Mayfield.
The third-year QB has been above average this season but he's still prone to careless mistakes and even when the Browns had the game in hand vs the Colts in Week 5, he almost gave it back to them with costly interceptions. This is still a big brother-little brother matchup and the Browns will get exposed.
Browns vs Steelers Game Center
---
Los Angeles Rams -3 vs San Francisco 49ers (-105)
Maybe you didn't see the butt-kicking the 49ers endured from the Dolphins on their home turf but San Francisco is in trouble. The Niners defense has not looked sharp when playing elevated competition and if they can't stop a Ryan Fitzpatrick-led offense, how are they going to stop the Rams?
The Rams' recent wins may be dismissed because they've come against the NFC East but what people may be overlooking is how fine-tuned the Los Angeles run game is. They lead the NFL with nine rushing touchdowns this season and are seventh in rush yards per game. Considering the Niners defensive line is decimated by injuries, the Rams should have their way on the offensive side of the ball.
Then there's Niners QB Jimmy Garoppolo, who got pulled in the loss to the Dolphins and hasn't looked right all season. The Super Bowl hangover is for real in San Francisco and I'm happy to fade the 49ers in this matchup.
Rams vs 49ers Game Center
---
Carolina Panthers Moneyline vs Chicago Bears (-120)
77.5 percent. No, that's not Teddy Bridgewater's completion percentage, that's his cover rate against the spread as an NFL starter. Bridgewater is 31-9 ATS in 40 career starts in the NFL (shout-out to Iain MacMillan for the stat) and has been a revelation in Carolina with his ability to move the ball and limit mistakes. The Panthers have been one of the most surprising teams this season – they don't turn the ball over and they play sound defense – and now they get to host the Bears.
Chicago, on paper, should be able to compete with anyone and betting against Nick Foles has cost me in years past but this is going to be a hard matchup for the Bears. The main reason for that is their offense, which hasn't improved much with Foles under center compared to Mitch Trubisky. Chicago is 27th in points scored per game and despite having a workhorse RB in David Montgomery, the team ranks 27th in rush yards per game and has only one rushing touchdown this season.
I'm fading the Bears until they show me they can beat a legitimate team (the Bucs don't count, haha).
Bears vs Panthers Game Center
---
Green Bay Packers Moneyline vs Tampa Bay Buccaneers (-120)
I go back and forth on the Packers most weeks. One week I think they're overrated, the next week I think they can win the NFC. Well, I'm settling somewhere in the middle for this bet because I think the Packers could very well destroy the Buccaneers in Week 6. Offensively, the Packers have the edge at quarterback, tight end and running back, and if Davante Adams comes back this week, that could be argued at WR too.
Another factor that I love about GB so far is they don't turn the ball over. The Packers are the only team that has yet to have a turnover this season, which means they don't beat themselves. This will likely be a close game which is why I was much more comfortable taking the moneyline instead of the spread.
Packers vs Buccaneers Game Center
---
Kansas City Chiefs-Buffalo Bills OVER 57.5 (-110)
Easiest OVER on the board, how could you fathom taking an UNDER in this game? I don't think I have to dive too deep into how good these offenses are – through four games each, they're combining to score 58 points per game – but it's the defenses that make me love the OVER so much.
As great as the Bills can look on paper, they are tissue paper in the secondary right now, allowing over 263 passing yards per game and yielding 10 passing touchdowns through five games. Now you expect the Bills to stop Patrick Mahomes and the Chiefs? Good luck. I'll be shocked if this game doesn't go into the 60s for the total combined score.
Chiefs vs Bills Game Center
---
Arizona Cardinals Moneyline vs Dallas Cowboys (-115)
5-0. That's my betting record when betting on Cowboys games this season and that's because, even though I'm a diehard Dallas fan, I've faded the 'Boys in every game. I'm not stopping now with the Arizona Cardinals coming to Jerry World. Only -115 for the moneyline? That feels like a gift given the upside of the Cardinals offense and how they can expose the dumpster fire known as the Cowboys defense (last in points allowed per game).
Look, this isn't an indictment of the Cowboys offense but let's be real, they will not be as good with Andy Dalton at quarterback over Dak Prescott. Dalton was prone to mistakes even in his time with Cincinnati but if the Cowboys face another deficit, which they will, do you really trust the Red Rocket to lead a go-ahead drive in the closing minutes of the game? I certainly don't.
Cardinals vs Cowboys Game Center
---
Looking For More Free NFL Picks?
See what Odds Shark's Super Computer is choosing for every side and total to help you make NFL football picks and place your best bets.
Get Free NFL Picks