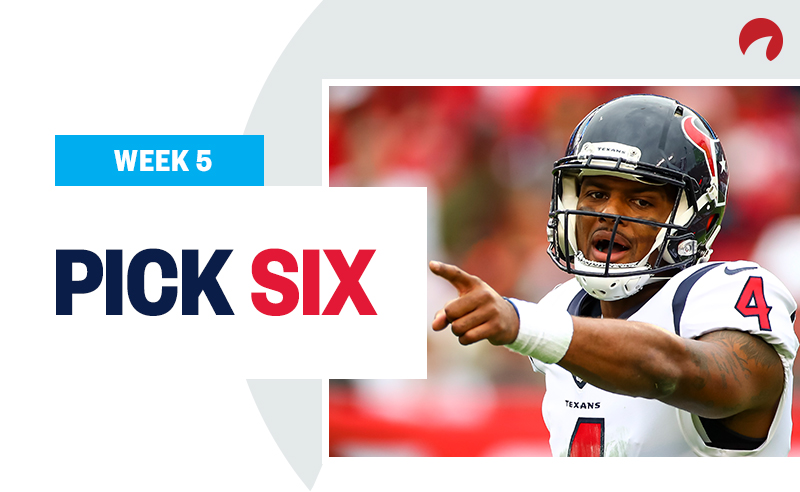 It was a bit of a mixed bag last week in the NFL as I went 3-3 with my free picks and was inches away from another profitable week of betting. With Week 5 of the NFL on tap, look no further than The Pick Six for free expert NFL picks and advice as we pass the quarter mark of the 2020 NFL season.
See Odds Shark's Best NFL Picks Sites
For my Week 5 NFL picks, there are a couple of favorites, a couple of underdogs and one total that I'm certain is going OVER.
Week 5 NFL Picks
If this is your first time checking out my NFL picks or you aren't sure what to expect, here's how it works: Each week during the 2020 NFL season, I give you my six favorite plays on the moneyline, spread or total. All NFL betting odds below are courtesy of the latest lines as of this writing and The Pick Six will be presented weekly right up to Super Bowl 55.
If you're looking for my prop bets or touchdown scorer picks, follow me on Twitter at @GDAWG5000 and all my prop picks will be there.
---
Houston Texans -5.5 vs Jacksonville Jaguars (-110)
This is my best bet for the Capper Cup in Week 5 – I think we see a blowout in Houston. The Texans have played by far the toughest four-game stretch to start a season I can recall and while the Vikings loss is inexcusable, you can almost justify the other three vs KC, Baltimore and Pittsburgh.
Only laying 5.5 points at home in a game in which the Texans are going to be fired up feels like a gift because they still have the talent edge at nearly every position, even if the stats so far this season don't back that up. Given that the Texans are 8-2 SU and 6-4 ATS in the last 10 games in this matchup, I think they crush Jacksonville now that Bill O'Brien is out as head coach.
Texans vs Jaguars Game Center
---
Cincinnati Bengals +13 vs Baltimore Ravens (-110)
Too many points, too many points, and I'll say it again for the people in the back: "TOO MANY POINTS." Look, I think the Ravens are a great team and may even make the Super Bowl but to be giving 13 points to Joe Burrow and the Bengals? That's just rude. Burrow is 3-0-1 ATS in his first four starts with Cincy and it's very common for a team that just had the No. 1 overall pick in the draft to be a great ATS team the following season.
I'm not going so far as to say the Bengals will upset the Ravens; I'm not crazy. But I have seen enough of Burrow and his ability to throw the ball to know that he is more than capable of scoring some garbage-time touchdowns and securing a greasy backdoor cover (just ask the Browns).
The Ravens have a stable of talent in the secondary but, surprisingly, they've been one of the worst passing defenses, allowing over 270 yards per game through the air (ranked 27th), which means they're vulnerable. Take the points and watch Joe Cool get you paid.
Bengals vs Ravens Game Center
---
Indianapolis Colts Moneyline vs Cleveland Browns (EVEN)
Hands down, the best defense in the NFL right now belongs to the Indianapolis Colts, the only team in the league that has yet to allow over 1,000 yards from scrimmage. They are first in nearly every major defensive category, including passing yards allowed, points allowed per game and interceptions. The latter category is an area in which I could see them being a nuisance for the Browns and specifically Baker Mayfield, who is a turnover waiting to happen.
This will be a close game, no doubt in my mind. That's why I would suggest taking the moneyline instead of the spread in case this game comes down to a final field goal.
Colts vs Browns Game Center
---
Philadelphia Eagles-Pittsburgh Steelers OVER 44 (-110)
As stale as these Pennsylvania offenses can be, this total seems far too low for the potential of the Steelers and Eagles. Both teams have quarterbacks who can throw in traffic and running backs who can get the extra yards to sustain drives. This is a perfect recipe for the OVER.
The Eagles just got done dropping 25 points on what was supposed to be an impenetrable 49ers defense while the Steelers have scored 26 or more points in all three games this season.
With the Steelers rested and not having to travel, this game should easily go into the 50s. I'm happy to grab the OVER as one of my NFL picks if oddsmakers are going to shortchange this total.
Eagles vs Steelers Game Center
---
New York Giants +9.5 vs Dallas Cowboys (-110)
4-0, that's right, I'm 4-0 fading the Cowboys this season. Yes, I'm a Cowboys fan but that's beside the point. Since I'm so close to the source material, I know the flaws of my team, and the secondary cannot stop anybody. It's been repeatedly diced up by opposing quarterbacks while allowing the most passing touchdowns in the NFL.
Now, I still have the fan hat on and would reiterate that I think the Cowboys win the game but they don't have the mental toughness and personnel to stop the bleeding when the opponent gets hot. That's why Dallas and Dak Prescott have had to mount these insane second-half comebacks just to even have a chance to win a game.
With the Giants being a bit underrated offensively and with Danny Jones' ability to scramble, the Cowboys are going to end up playing from behind again only to win on a last-second touchdown. Just watch.
Giants vs Cowboys Game Center
---
Washington Football Team +7.5 vs Los Angeles Rams (-115)
Out of all the NFL picks this week, this might be the one I'm the most on edge about because Washington kinda stinks. Yes, they have a decent defensive line that will likely cause fits for Jared Goff and LA's timed offense, but whenever you switch to a new quarterback, the chances are much higher for a bust performance.
Kyle Allen is very familiar with coach Ron Rivera and his offensive principles and was hot out of the gate in his first few starting assignments with Carolina, winning his first four starts. I'm not that crazy to bet on the Washington moneyline but I do think they will make this game incredibly close and make the Rams have to drive the length of the field to win at the last minute. It's either Washington or no play for me.
Washington vs Rams Game Center
---