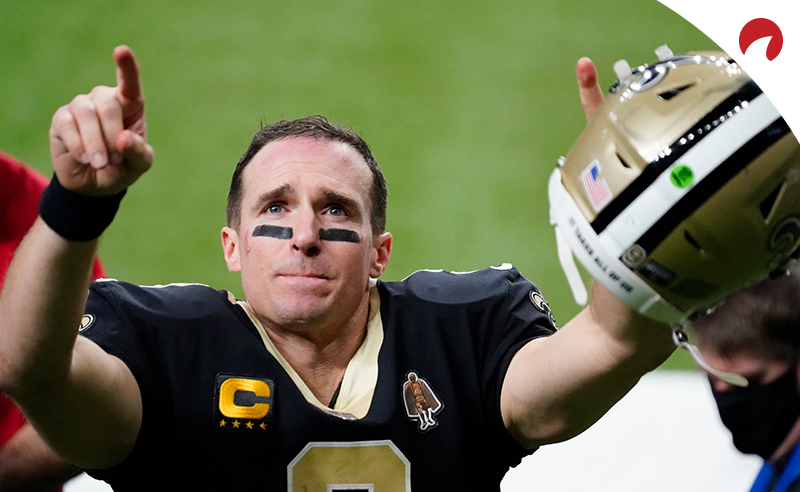 After losing at home to the Minnesota Vikings in the NFL wild-card round a year ago, Drew Brees took some time to ponder his future. One of the best quarterbacks of all time decided to come back for one more shot at another Super Bowl ring.
The New Orleans Saints posted a 12-4 record in the 2020 campaign to secure the second seed in the NFC, but they were eliminated at home in the divisional round of the playoffs by Tom Brady and the Tampa Bay Buccaneers.
See Odds Shark's Best NFL Sites
Brees experienced one of his worst injuries as a pro this year, suffering eight fractured ribs and a collapsed lung when he was sacked by San Francisco 49ers defensive end Kentavius Street. He missed just four games, but when he returned he didn't have the same type of strength throwing the ball that he once had.
After another disappointing playoff exit, online sportsbook Bovada has released odds on whether Drew Brees will retire, with the Yes option the heavy -700 betting favorite and No coming back at +400. There are also odds on whether he will coach next season or perhaps become a broadcaster or analyst.
If you are looking for how to bet on the big game, our Super Bowl hub has everything you'll need. Or you can check out our Where to Bet on the Super Bowl page. If you are just looking to bet on the NFL, then you should check our How to Bet on the NFL page.
Will Drew Brees Retire?
will drew brees retire after the 2020 season?

| Option | Odds |
| --- | --- |
| Yes | -700 |
| No | +400 |
Odds as of January 20 at Bovada
Why Brees Won't Return Next Season
Drew Brees will go down as one of the best players to ever play the game and is without question a first-ballot Hall of Famer. He's broken almost every record at the quarterback position and will be etched in history as an all-time great.
However, Brees just turned 42 and he and the New Orleans Saints have to decide what is in their best interests for the future. Brees has missed time each of the past two seasons due to injury, also being sidelined for five games in 2019 by a thumb injury. In the nine games he missed over those two seasons, the Saints went 8-1 with Teddy Bridgewater and Taysom Hill under center.
Calling It A Career
Fox Sports analyst Jay Glazer announced before the divisional-round game against the Bucs that it would be Brees' final game at the Superdome, and possibly his final game:
Jay Glazer: "Drew Brees, tonight will be the last game he plays at the Superdome. … Drew Brees will be done. That's it. Tom Brady will continue. Drew Brees, this will be his last game in the Superdome."

— Michael David Smith (@MichaelDavSmith) January 17, 2021
Now that the Saints are done, it will be an offseason of questions about his return. Quite frankly, there is nothing more to accomplish for Brees, who has already reached the pinnacle of the sport with a Super Bowl ring.
Will Brees Become a Coach?
will drew brees be a coach for week 1 of the 2021 season?

| Option | Odds |
| --- | --- |
| Yes | +600 |
| No | -1200 |
Odds as of January 20 at Bovada
Don't Expect Brees To Be A Coach Next Year
If Brees does retire, many people will wonder what's next for the future Hall of Famer. I think Brees will take time to be with his family and look back at his illustrious career. I would bet on No at -1200 odds to become a coach next season because I think it would be too soon for him to return to the game. After the game against Tampa Bay, Brees was seen with his family running on the field and taking it all in, as shown in the video below.
Tom Brady throws a pass to Drew Brees' son before leaving the field.

Football is family

(via @JamesPalmerTV)pic.twitter.com/EdSFRnz8dK

— SportsCenter (@SportsCenter) January 18, 2021
There is no question in my mind that Brees would make an excellent coach. If you have seen his pre-game speeches, you know that he is an incredible motivator. He knows the game as well as anyone, but the prop is specific to 2021 and I think if he becomes a coach or analyst that it won't happen next season, but the following one.
Is the Booth A Possible Destination for Brees?
will drew brees become a broadcaster or analyst before next season?

| Option | Odds |
| --- | --- |
| Yes | -180 |
| No | +140 |
Odds as of January 20 at Bovada
Could Brees Follow Romo?
Over the last few years, Tony Romo has shown us that a quarterback can transition pretty easily into the broadcast booth. As mentioned above, I think Brees will take a year off from football regardless of what analyst or broadcast offer comes in.
The betting favorite at -180 odds is that he will become an analyst, and I definitely think that's a viable option. However, again, I would lean toward No at +140 for him to be in the broadcast booth next season. In the last four years, he has lost gut-wrenching playoff games one after another. I don't know what's going on in the mind of Drew Brees, but he suffered a serious injury this season and after a 20-year career in the NFL and being a father to four children, I expect that he will want to spend time with his family.
Family First For Brees
If that video with him, his family and Tom Brady showed us anything, it is that family is everything. It's going to be tough to see one of the best to ever play the game walk away from the sport, but he's given a lot to the game. He's probably had to miss key moments in his kids' lives, and with four children under the age of 12, I imagine he will want to be around them more often.
I can easily see Brees heading to the booth at some point. Perhaps ESPN offers him a job as a color commentator for Monday Night Football. If he does retire – which is expected – and take a year away from the game, the sport of football will unquestionably miss him. However, don't expect him to be away for too long. There will be plenty of suitors trying to bring him back as either a coach or most likely a broadcaster.