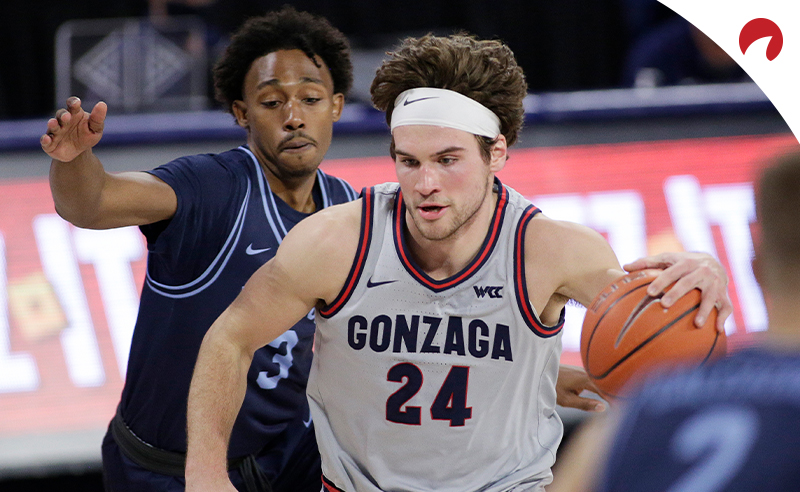 We've finally made it to March! Most NCAA basketball conferences are starting their end-of-season tournaments this week and three teams look to be a cut above the rest in 2021 March Madness odds.
The best basketball betting sites have Gonzaga as the +240 favorite in NCAA championship odds, just slightly ahead of Baylor at +300 and Michigan at +350. Gonzaga was the +450 favorite in December and its odds have been hovering around +250 since mid-January.
The Baylor Bears were in lockstep with the Bulldogs for most of the season in 2021 NCAA championship odds but recently dropped their first game of the year in a tough road loss to the Kansas Jayhawks. The Bears are now 21-1 and own wins over Texas, Auburn, Kansas, Texas Tech and Oklahoma along with an out-of-conference victory over Illinois.
In the meantime, Gonzaga crushed its out-of-conference competition with convincing wins over the Jayhawks, Iowa Hawkeyes, West Virginia Mountaineers and Virginia Cavaliers. Five of Gonzaga's 24 wins have come against ranked teams, three of them who were in the top 10, but the Bulldogs haven't faced a ranked team since December 26 when they crushed Virginia.
As for the Michigan Wolverines, they're 19-3 SU in 22 games and have been easily the best team in the Big Ten Conference. If the Wolverines close out and win the conference tourney, they're almost certain to get a No. 1 seed for the NCAA Tournament.
There's still time to place an NCAA futures bet with the latest college basketball odds. Be sure to read up on how to bet on college basketball and how to bet on games with no fans in attendance. These will be helpful when making your wager.
Now, here are the latest March Madness odds for the top 30 teams on the board to win the 2021 NCAA basketball national championship:
Who will win the 2021 March Madness Tournament?
Odds to Win the 2021 NCAAB Championship

| Team | Odds |
| --- | --- |
| Gonzaga | +240 |
| Baylor | +300 |
| Michigan | +350 |
| Illinois | +800 |
| Iowa | +1400 |
| Ohio State | +1600 |
| Alabama | +1600 |
| Florida State | +1600 |
| Houston | +2200 |
| West Virginia | +2200 |
| Texas | +2500 |
| Kansas | +2500 |
| Connecticut | +2500 |
| Creighton | +3000 |
| Villanova | +3000 |
| Virginia | +3000 |
| Texas Tech | +3500 |
| Arkansas | +3500 |
| Oklahoma | +5000 |
| Oregon | +5000 |
| Wisconsin | +5500 |
| Tennessee | +5500 |
| Loyola Chicago | +5500 |
| Colorado | +6000 |
| San Diego State | +6000 |
| USC | +6600 |
| North Carolina | +6600 |
| Purdue | +6600 |
| LSU | +7500 |
| Louisville | +7500 |
| Michigan State | +7500 |
| Virginia Tech | +8000 |
| Kentucky | +8000 |
Odds as of March 8 at Bovada
Why Gonzaga Is The 2021 March Madness Odds Favorite
The Gonzaga Bulldogs were always going to remain a top-five team no matter what happened in the opening few weeks of college hoops but if you take down four top 25-ranked teams like Kansas, West Virginia, Iowa and Virginia, oddsmakers had to take notice.
Gonzaga's offense was never in question, but in putting up 87 or more points on five teams expected to go far in the March Madness tournament, dominance is the only word that comes to mind. To re-emphasize this, the Bulldogs dropped 98 points on a Virginia team (+3000) that's known for its defense and was holding opponents to 61.9 points per game going into that contest. Offensively, they have no weakness.
At this point, Gonzaga should cruise through the rest of the WCC conference to get the No. 1 seed in the March Madness tournament. The main issue when betting on a team like the Bulldogs is the weakness of their conference – they really haven't been challenged as a group since playing Virginia. Teams like Baylor, Michigan and others are somewhat battle-tested heading into March Madness and time will tell if the lack of strength within their schedule puts a downer on the Zags.
Michigan Deserves Respect in NCAA Championship Odds
It can be argued that the Big Ten Conference is the toughest in all of college basketball and no team has been more dominant running that gauntlet than the Michigan Wolverines. They currently lead the conference standings at 14-3 (19-3 overall) but have lost two of their last three games, to Illinois and Michigan State. They still have plenty of quality wins over Wisconsin, Iowa, Rutgers, Ohio State and Michigan State to hang their hat on and are sitting pretty heading into the Big Ten Conference tournament as the 1 seed.
Freshman center Hunter Dickinson has been a matchup nightmare for opposing defenses. The seven-footer has scored double-digit points in 13 of 17 conference games, including a 22-point effort against Ohio State on February 21. There aren't many players in the NCAA that will be able to match up with his physicality.
Head coach Juwan Howard has done a terrific job breathing new life back into this program and at +350, Michigan should be taken very seriously as a contender to win the championship given the team's talent and pedigree.
---
Understanding the Odds to Win the NCAA Tournament
At any college basketball sportsbook, you'll see NCAA basketball lines and tournament odds laid out like this:
Unlike a straight-up bet where there is a clear favorite represented by the minus sign (-), the team with the lowest odds would be the front-runner. In this case, it's Villanova and the rest are underdogs even though each team has a plus sign (+) prefacing their odds.
If you were to lay down $100 on the Wildcats, you'd get a payout of $800 – your original money is returned coupled with your winnings of $700.
To see how much you'd win on the futures odds, check out our Odds Calculator. It'll show you what your payout would be based on the odds and amount wagered.
What is a Futures Bet for College Basketball?
Betting on college basketball lines and a school's odds to win March Madness is a type of futures bet. This is a bet you can make weeks or even months in advance of a big event. Oddsmakers set the NCAA basketball odds early and look at a team's past performance, injuries and coaching/roster moves.
The lines are not set in stone and will move as the regular season progresses. If you see odds you like, take them as soon as you can.