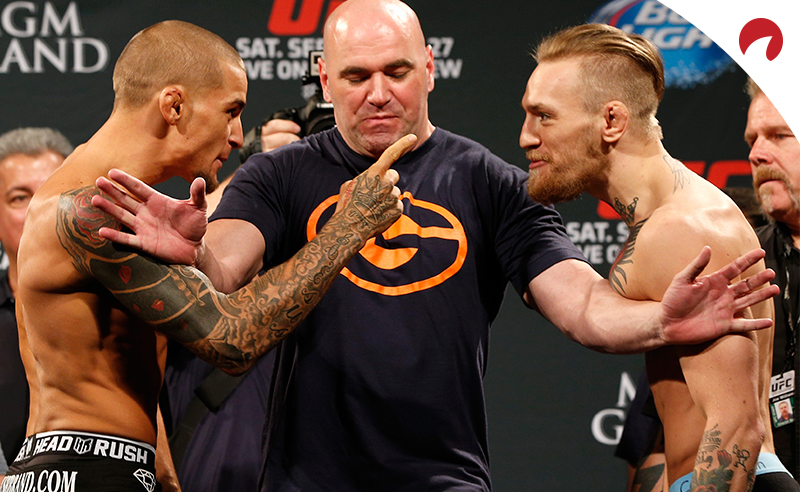 Conor McGregor's 2020 season was abruptly halted shortly after his quick knockout win over Donald Cerrone on January 18 due to the coronavirus pandemic. The Irishman hasn't fought since, though it looks like his season has merely been postponed a year as a rematch with Dustin Poirier is set for January 23 at UFC 257.
I accept, Jan 23rd is on!
My goal is to see this fight take place in Cowboy stadium. Proper Style! Jerry Jones is a friend and the stadium can hold our crowd. I will be ready for Texas and Texas will be ready for my fans!
Then Manny. #McGregorSportsandEntertainment

— Conor McGregor (@TheNotoriousMMA) October 14, 2020
In the above tweet, "Notorious" said he wanted a fight with Dustin Poirier to take place at Cowboy Stadium (AT&T Stadium) in Dallas, a location that has hosted reduced crowds for Dallas Cowboys games. However, this fight is going to headline UFC 257 in a return to Yas Island, aka Fight Island, in Abu Dhabi.
He also mentioned "Then Manny" at the end, which points to the anticipated boxing match with Manny Pacquiao. But for now, we keep our attention on the Octagon, and below are the McGregor vs Poirier odds.
Close to home for me on my birthday weekend! What weight? https://t.co/xLyWxWgFxh

— The Diamond (@DustinPoirier) October 14, 2020
These two first met in 2014 with McGregor scoring a first-round knockout win. Looking at the McGregor vs Poirier odds, it was a little surprising to see the previous winner, McGregor, open as just a -180 favorite, with Poirier coming back at +155, though the odds have now shifted to what I was expecting with McGregor at -280 and Poirier at +220.
This means that for the McGregor vs Poirier odds, you would have to wager $280 to profit $100 on a McGregor win, while a $100 bet on Poirier would profit you $220. The McGregor -280 line has implied odds of 73.68 percent to win and Poirier's implied odds would be 31.25 percent. You can figure out all of your potential winnings with our sports betting calculator.
McGregor vs Poirier Odds
Odds as of January 15 at Bovada
See Odds Shark's Best UFC Sites
New to betting on the fights and the McGregor vs Poirier odds have you interested? Check out our UFC betting guide to help you get in the action. Also, keep an eye on our UFC odds page for the latest up-to-date Conor McGregor vs Dustin Poirier odds.
McGregor vs Poirier Odds Analysis
Looking back at McGregor's odds throughout his career, outside of two occasions as an underdog in the cage and once in the boxing ring against Floyd Mayweather Jr., the -280 line will be his fourth-shortest in the UFC, shorter than his first fight with Poirier in which he was a -225 favorite.
McGregor Still a Betting Favorite
There was tremendous value on "Notorious" when this line opened at -180 even though he has competed only once in the last two years. Having already scored a knockout win over Poirier, McGregor should be brimming with confidence heading into the bout. Additionally, if in fact Pacquaio is on tap next, it only makes sense that he takes on a southpaw in Poirier as a "tune-up" fight.
Is There Value On Poirier vs McGregor?
Now, if you're not a fan of the Irishman and you see the McGregor vs Poirier odds, you may think you just hit the lottery with the red-hot "Diamond" as an underdog. Since losing to McGregor in 2014, Poirier has gone 10-2 with one no contest, winning the interim lightweight belt vs Max Holloway and beating current interim lightweight champion Justin Gaethje and former champions Anthony Pettis and Eddie Alvarez.
But the first time these two met, McGregor had his mind games working to full effect and Poirier has even admitted his opponent got under his skin.
[embedded content]
At the three-minute mark in the above video, you can see a tense interaction between the two in the hotel lobby and you can almost see that Poirier feels uncomfortable as McGregor stares him down.
See McGregor vs Poirier Odds
McGregor vs Poirier Betting Preview
To expand upon that last part, perhaps the No. 1 factor and one that is hard to handicap is how Poirier handles his emotions this time around. To me, this is one of the areas in which he has improved throughout his career, hardly looking fazed in his title fight vs Khabib Nurmagomedov last year. Conversely, you could see the Diamond's agitation when he swiped at McGregor's hand as they came face to face during the ref's instructions for their first fight.
What Happened In The First McGregor vs Poirier Fight?
Although there wasn't much video to study from that first go-around, with McGregor scoring the knockout 1:46 into the fight, Poirier was doing a good job chopping at Notorious' lead leg, which was almost always answered with McGregor's patented powerful left hand. Eventually, Conor landed that left behind Dustin's ear, dropping him and ending the fight.
Will Anything Be Different In Second McGregor vs Poirier Fight?
That previous fight was at featherweight and this one will be contested at lightweight, which presents pros and cons for each fighter – more power at the heavier weight helps McGregor, while not cutting weight typically leads to better conditioning, which gives an edge to Poirier.
The fighting styles are interesting as well. McGregor tends to be a fast starter (16 wins in the first round), while Poirier tends to be a slow starter and picks up as the fight progresses.
McGregor vs Poirier Prediction
I do expect this fight to last longer than the first one, especially if McGregor is using Poirier as a tune-up with a southpaw before Pacquiao. Perhaps he will want to show off his conditioning for five rounds? Additionally, champion Nurmagomedov has said the next person to beat Poirier would be the No. 1 contender, setting the stage for a potential McGregor/Nurmagomedov rematch.
That said, McGregor could walk in and walk right through him – you really never know in his fights – but ultimately, I think Poirier attempts to survive the first hoping McGregor will tire but Poirier will pay the price in the second round.
Prediction: Conor McGregor (-280) via knockout