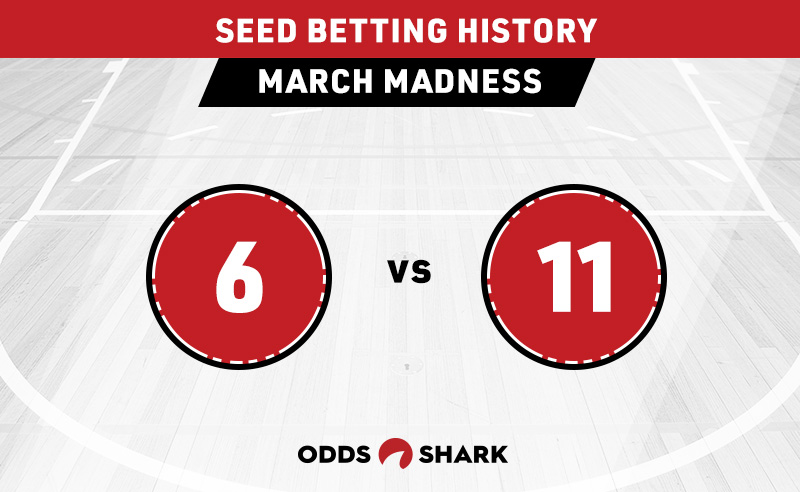 Traditionally, being selected as a No. 6 seed heading into the NCAA Tournament has been a curse in March Madness brackets as No. 11 seeds are 14-14 SU and 17-11 ATS in the last seven tournaments. Getting seeded at No. 11 has consequently proven to be a great underdog position. In 2018, No. 11 seeds went 2-2 SU and 3-1 ATS with only the Florida Gators winning and covering from No. 6. However, No. 6 seeds bounced back in 2019, going 3-1 SU and 2-2 ATS with only Iowa State failing to win.
Why should you bet on an 11 seed over the 6 seed?
Three No. 11 seeds covered the spread in 2018, while two of them won straight up in the first round to move on in the NCAA Tournament. In 2017 and 2016, No. 11 seeds went 3-1 SU and ATS both years. 2019 was a bit of a comeback for the 6 seeds, but they still only split ATS. The fact that No. 11 seeds are 9-7 SU vs No. 6 seeds in the last four year-end tournaments should be enough to make bettors think twice before writing off the lower seed.
Sounds like a great time to find a high underdog spread!
See Odds Shark's Best March Madness Sites
Will an 11 seed make the Final Four?
Four No. 11 seeds have made it to the Final Four – Loyola-Chicago in 2018, VCU in 2011, George Mason in 2006 and LSU in 1986 – while seven No. 11 seeds have made it at least to the Elite Eight. More than half (26 of 50) of the advancing No. 11 seeds all-time have advanced to the Sweet 16.
Seed vs Seed Stats: 1 vs 16 | 2 vs 15 | 3 vs 14 | 4 vs 13 | 5 vs 12 | 6 vs 11 | 7 vs 10 | 8 vs 9
#6 Seed vs #11 Seed

| #6 Seed | Score | #11 Seed | Score | Date | ATS Win | Win Seed | ATS Seed |
| --- | --- | --- | --- | --- | --- | --- | --- |
| Maryland | 79 | Belmont | 77 | 2019-03-21 | Belmont | 6 | 11 |
| Buffalo | 91 | Arizona State | 74 | 2019-03-22 | Buffalo | 6 | 6 |
| Villanova | 61 | Saint Mary's | 57 | 2019-03-21 | Villanova | 6 | 6 |
| Iowa State | 59 | Ohio State | 62 | 2019-03-22 | Ohio State | 11 | 11 |
| Miami | 62 | Loyola-Chicago | 64 | 2018-03-15 | Loyola-Chicago | 11 | 11 |
| Florida | 77 | St. Bonaventure | 62 | 2018-03-15 | Florida | 6 | 6 |
| TCU | 52 | Syracuse | 57 | 2018-03-16 | Syracuse | 11 | 11 |
| Houston | 67 | San Diego State | 65 | 2018-03-16 | San Diego State | 6 | 11 |
| Creighton | 72 | Rhode Island | 84 | 2017-03-17 | Rhode Island | 11 | 11 |
| SMU | 65 | USC | 66 | 2017-03-17 | USC | 11 | 11 |
| Maryland | 65 | Xavier | 76 | 2017-03-16 | Xavier | 11 | 11 |
| Cincinnati | 76 | Kansas State | 61 | 2017-03-16 | Cincinnati | 6 | 6 |
| Seton Hall | 52 | Gonzaga | 68 | 2016-03-17 | Gonzaga | 11 | 11 |
| Texas | 72 | Northern Iowa | 75 | 2016-03-18 | Northern Iowa | 11 | 11 |
| Notre Dame | 70 | Michigan | 63 | 2016-03-18 | Notre Dame | 6 | 6 |
| Arizona | 55 | Wichita State | 65 | 2016-03-17 | Wichita State | 11 | 11 |
| SMU | 59 | UCLA | 60 | 2015-03-20 | UCLA | 11 | 11 |
| Providence | 53 | Dayton | 66 | 2015-03-21 | Dayton | 11 | 11 |
| Xavier | 76 | Ole Miss | 57 | 2015-03-20 | Xavier | 6 | 6 |
| Butler | 56 | Texas | 48 | 2015-03-20 | Butler | 6 | 6 |
| North Carolina | 79 | Providence | 77 | 2014-03-21 | Providence | 6 | 11 |
| Massachusetts | 67 | Tennessee | 86 | 2014-03-21 | Tennessee | 11 | 11 |
| Baylor | 74 | Nebraska | 60 | 2014-03-21 | Baylor | 6 | 6 |
| Ohio State | 59 | Dayton | 60 | 2014-03-20 | Dayton | 11 | 11 |
| UCLA | 63 | Minnesota | 83 | 2013-03-22 | Minnesota | 11 | 11 |
| Arizona | 81 | Belmont | 64 | 2013-03-21 | Arizona | 6 | 6 |
| Memphis | 54 | Saint Mary's | 52 | 2013-03-21 | Memphis | 6 | 6 |
| Butler | 68 | Bucknell | 56 | 2013-03-21 | Butler | 6 | 6 |
| San Diego State | 65 | North Carolina State | 79 | 2012-03-16 | North Carolina State | 11 | 11 |
| Cincinnati | 65 | Texas | 59 | 2012-03-16 | Cincinnati | 6 | 6 |
| UNLV | 64 | Colorado | 68 | 2012-03-15 | Colorado | 11 | 11 |
| Murray State | 58 | Colorado State | 41 | 2012-03-15 | Murray State | 6 | 6 |
| Georgetown | 56 | Virginia Commonwealth | 74 | 2011-03-18 | Virginia Commonwealth | 11 | 11 |
| Xavier | 55 | Marquette | 66 | 2011-03-18 | Marquette | 11 | 11 |
| Cincinnati | 78 | Missouri | 63 | 2011-03-17 | Cincinnati | 6 | 6 |
| St. John's | 71 | Gonzaga | 86 | 2011-03-17 | Gonzaga | 11 | 11 |
| Xavier | 65 | Minnesota | 54 | 2010-03-19 | Xavier | 6 | 6 |
| Tennessee | 62 | San Diego State | 59 | 2010-03-18 | PUSH | 6 | |
| Marquette | 78 | Washington | 80 | 2010-03-18 | Washington | 11 | 11 |
| Notre Dame | 50 | Old Dominion | 51 | 2010-03-18 | Old Dominion | 11 | 11 |
| West Virginia | 60 | Dayton | 68 | 2009-03-20 | Dayton | 11 | 11 |
| Arizona State | 66 | Temple | 57 | 2009-03-20 | Arizona State | 6 | 6 |
| Marquette | 58 | Utah State | 57 | 2009-03-20 | Utah State | 6 | 11 |
| UCLA | 65 | Virginia Commonwealth | 64 | 2009-03-19 | Virginia Commonwealth | 6 | 11 |
| Oklahoma | 72 | Saint Joseph's | 64 | 2008-03-21 | Oklahoma | 6 | 6 |
| USC | 67 | Kansas State | 80 | 2008-03-20 | Kansas State | 11 | 11 |
| Purdue | 90 | Baylor | 79 | 2008-03-20 | Purdue | 6 | 6 |
| Marquette | 74 | Kentucky | 66 | 2008-03-20 | Marquette | 6 | 6 |
| Notre Dame | 64 | Winthrop | 74 | 2007-03-16 | Winthrop | 11 | 11 |
| Duke | 77 | Virginia Commonwealth | 79 | 2007-03-15 | Virginia Commonwealth | 11 | 11 |
| Vanderbilt | 77 | George Washington | 44 | 2007-03-15 | Vanderbilt | 6 | 6 |
| Louisville | 78 | Stanford | 58 | 2007-03-15 | Louisville | 6 | 6 |
| Michigan State | 65 | George Mason | 75 | 2006-03-17 | George Mason | 11 | 11 |
| West Virginia | 64 | Southern Illinois | 46 | 2006-03-17 | West Virginia | 6 | 6 |
| Indiana | 87 | San Diego State | 83 | 2006-03-16 | Indiana | 6 | 6 |
| Oklahoma | 74 | Wisc-Milwaukee | 82 | 2006-03-16 | Wisc-Milwaukee | 11 | 11 |
| Wisconsin | 57 | Northern Iowa | 52 | 2005-03-18 | Northern Iowa | 6 | 11 |
| Texas Tech | 78 | UCLA | 66 | 2005-03-17 | Texas Tech | 6 | 6 |
| LSU | 68 | UAB | 82 | 2005-03-17 | UAB | 11 | 11 |
| Utah | 60 | Texas El Paso | 54 | 2005-03-17 | Utah | 6 | 6 |
| Wisconsin | 76 | Richmond | 64 | 2004-03-19 | Wisconsin | 6 | 6 |
| Vanderbilt | 71 | Western Michigan | 58 | 2004-03-19 | Vanderbilt | 6 | 6 |
| Boston College | 58 | Utah | 51 | 2004-03-19 | Boston College | 6 | 6 |
| North Carolina | 63 | Air Force | 52 | 2004-03-18 | North Carolina | 6 | 6 |
| Oklahoma State | 77 | Pennsylvania | 63 | 2003-03-21 | Oklahoma State | 6 | 6 |
| Maryland | 75 | UNC Wilmington | 73 | 2003-03-21 | UNC Wilmington | 6 | 11 |
| Missouri | 72 | Southern Illinois | 71 | 2003-03-20 | Southern Illinois | 6 | 11 |
| Creighton | 73 | Central Michigan | 79 | 2003-03-20 | Central Michigan | 11 | 11 |
| Texas Tech | 68 | Southern Illinois | 76 | 2002-03-15 | Southern Illinois | 11 | 11 |
| California | 82 | Pennsylvania | 75 | 2002-03-15 | California | 6 | 6 |
| Texas | 70 | Boston College | 57 | 2002-03-15 | Texas | 6 | 6 |
| Gonzaga | 66 | Wyoming | 73 | 2002-03-14 | Wyoming | 11 | 11 |
| Texas | 65 | Temple | 79 | 2001-03-16 | Temple | 11 | 11 |
| Notre Dame | 83 | Xavier | 71 | 2001-03-16 | Notre Dame | 6 | 6 |
| Wisconsin | 49 | Georgia State | 50 | 2001-03-15 | Georgia State | 11 | 11 |
| USC | 69 | Oklahoma State | 54 | 2001-03-15 | USC | 6 | 6 |
| Indiana | 57 | Pepperdine | 77 | 2000-03-17 | Pepperdine | 11 | 11 |
| Miami | 75 | Arkansas | 71 | 2000-03-17 | Miami | 6 | 6 |
| UCLA | 65 | Ball State | 57 | 2000-03-16 | UCLA | 6 | 6 |
| Purdue | 62 | Dayton | 61 | 2000-03-16 | Dayton | 6 | 11 |
| Kansas | 95 | Evansville | 74 | 1999-03-12 | Kansas | 6 | 6 |
| Temple | 61 | Kent State | 54 | 1999-03-12 | Kent State | 6 | 11 |
| George Washington | 88 | Indiana | 108 | 1999-03-11 | Indiana | 11 | 11 |
| Florida | 75 | Pennsylvania | 61 | 1999-03-11 | Florida | 6 | 6 |
| UCLA | 65 | Miami | 62 | 1998-03-13 | Miami | 6 | 11 |
| Clemson | 72 | Western Michigan | 75 | 1998-03-13 | Western Michigan | 11 | 11 |
| Xavier | 68 | Washington | 69 | 1998-03-12 | Washington | 11 | 11 |
| Arkansas | 74 | Nebraska | 65 | 1998-03-12 | Arkansas | 6 | 6 |
| Stanford | 80 | Oklahoma | 67 | 1997-03-14 | Stanford | 6 | 6 |
| Louisville | 65 | Massachusetts | 57 | 1997-03-14 | Louisville | 6 | 6 |
| Illinois | 90 | USC | 77 | 1997-03-14 | Illinois | 6 | 6 |
| Iowa State | 69 | Illinois State | 57 | 1997-03-13 | Iowa State | 6 | 6 |
| North Carolina | 83 | New Orleans | 62 | 1996-03-15 | North Carolina | 6 | 6 |
| Louisville | 82 | Tulsa | 80 | 1996-03-15 | Tulsa | 6 | 11 |
| Indiana | 51 | Boston College | 64 | 1996-03-15 | Boston College | 11 | 11 |
| Iowa | 81 | George Washington | 79 | 1996-03-15 | George Washington | 6 | 11 |