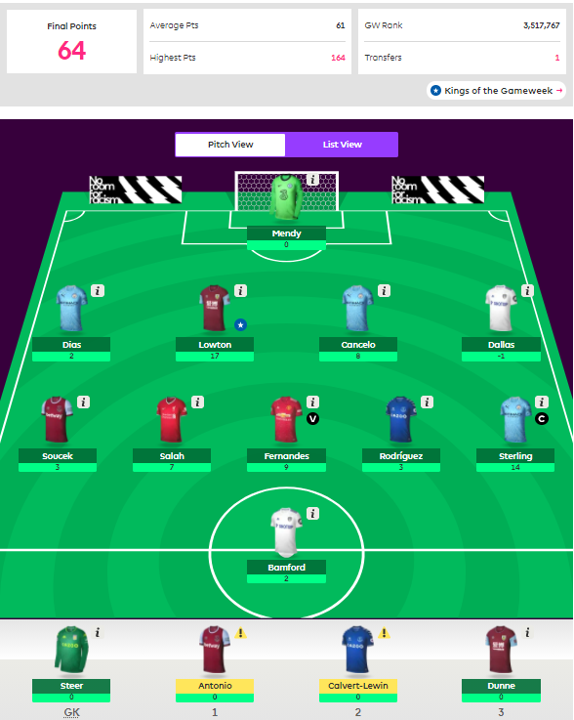 GW points: 64
GW average: 61
GW rank: 3,517,767
Overall rank: 436,877 (▼)
It was a frustrating Double Gameweek 24 for many FPL managers with the injury to Dominic Calvert-Lewin and Pep Guardiola's roulette wheel spinning fiercely as ever. Team TSZ's bacon was saved whole-heartedly by Burnley's Matt "Due a goal" Lowton, who scored his first Premier League goal in a strong 3-0 win for Burnley over Crystal Palace. Clearly Lowton read last week's edition of the Team TSZ report were I quite cunningly goaded him into his stand-out performance:
"The desperation was clear in Alex's voice as he suggested James Tarkowski was "due a goal". Those famous three last words. Can you say defenders are due a goal? … Vladimir Coufal, playing the side with the least goals scored this season, is the man sacrificed for Alex "Due a Goal" Sarwar's predictions, though not for the too-expensive Tarkowski. No goals and assists Matt Lowton comes in in his stead. I think we can safely say that Matt Lowton is not due a goal…"
I refuse to eat my words because it was all part of the plan. I too brought Lowton in to my personal team. Reverse psychology mission accomplished. You know who else would never score ten goals in two games against Wolves and Southampton? My captain, Patrick Bamford.
Were it not for Lowton, the team would be in disarray. They scored 64 points, just three over the average, to drop significantly on a big red snake of an arrow. Can they manufacture a green ladder this week?
DOUBLE GAMEWEEK 25 TEAM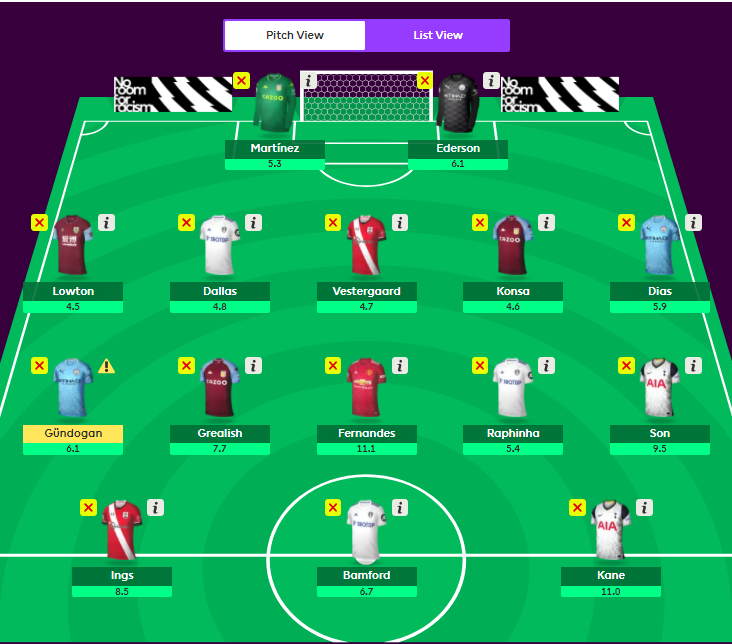 Formation: ?
Captain: ?
Vice-captain: ?
Transfers made: ?
Point deductions: ?
With a whole host of double gameweeks incoming, though frustratingly not yet confirmed, there is a sense of trepidation for many FPL managers ahead of this Friday evening deadline. Alex suggested that the Premier League must release the details of the next few weeks soon before they "clock off" at 5:00pm. As if the Premier League work at a whimsical Victorian pen factory? Chief Executive Richard Masters and the team all marking their cards before heading off to their favourite local, 'The King's VARms', for a couple of post-work pints.
Alex and Trystan have smashed the glass on the Wildcard box and pressed the big red (flag) button.
Faced with two options: play the gameweek in front of them or assume the various predictions on FPL Twitter to be correct and hold out for maximum chippage in the coming weeks, it seemed the right time to be brave. Taking an earlier than expected wildcard worked well for Team TSZ in our maiden season, where we finished inside the top 1.5k in the world, and could well do again. Particularly as, this time, it is two heads (plus mine if required) instead of four. As the saying goes: two heads are better than one, but four heads is an incredibly long and boring Skype call.
I've attempted in the past to take you, reader, painstakingly through the ins and outs and back-ins of a Team TSZ wildcarding session. Please see the images above for the full changes. This time, I'm sharing some of the choice quotes from the fat-chewing.
"I think what we need to do before we start is assess our team. Our team is crap." Alex Sarwar, 2021.
"Well we're only 10 million over budget right now". Trystan Pugh, 2021.
I went to the toilet at one point, about half an hour in. They didn't notice. I returned to Alex listing players "worth a goal". It was a long list.
"If there's no double gameweek we're absolutely screwed" Trystan Pugh, 2021.
The highlights of Alex and Trystan's potential wildcard do seem to be the inclusion of double-gameweekers Danny Ings and Raphinha alongside potential future doublers Ilkay Gundogan, Son, Harry Kane, Jack Grealish and Esri Konsa. Those highlights are subject to change, however, and so the only certain information this article is providing you is that Team TSZ may or may not be using their wildcard. Sorry.
"Is it worth having an emergency call at 5pm? Adam won't like hearing this" Alex Sarwar, 2021.
I woke briefly from my waking slumber to confirm that no, I would not. Therefore, stay tuned for a potential reshuffle update from Alex or Trystan here before everyone at The Premier League & Sons clock off for the weekend! I'm off to The King's VARms.
Thanks for reading, and good luck in the gameweek!
For the rest of our FPL content, visit our Fantasy section!