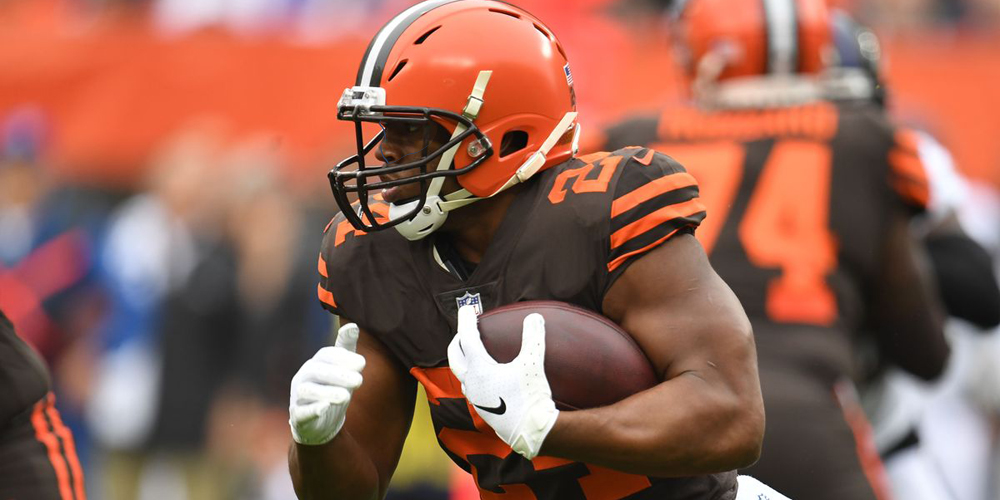 How did everyone enjoy Taysom week? Since this is a DraftKings focused article, we didn't get to take advantage of Hill as a TE but he was a nice, cheap QB play for us. Last week I originally built 20 lines and had them entered into a contest before calling an audible on Sunday and going with three lines throughout a wider range of contests. Let's just say I'll be going back to 20 lines. Trying to cram all the ideas I have into 3 lines was not my strength. The way this slate looks on the surface, I can tell I'll need all 20 to get where I want to go this week. This slate looks less straight forward (as of my first look here on Tuesday) than last week's slate, with Cook/CMC, Chiefs passing game (after what LA did to TB on MNF), Jacobs/Waller for the Raiders, and pieces of the LAC/BUF game standing out as chalk. Only 4 of the main slate games have a 50+ point total as of Tuesday but there look to be some interesting plays in some of the other games, too. Let's have a look.
Below is the chart of which players I am considering as Good Chalk, Pivot plays, and salary saving Punts.
Quick Links
QUARTERBACKS
BEST BETS: Kyler Murray, Patrick Mahomes, Josh Allen, Justin Herbert
PIVOTS: Tom Brady, Philip Rivers, Matt Ryan, Tua Tagovailoa
PUNTS: Daniel Jones, Baker Mayfield
None of the QBs this week strike me as must-have chalk. We'll probably see a lot of rosters putting in the top 4 guys because they are "safe" names, then there'll be some rosters with the pay down guys so going mid-salary for a QB this week seems like a way to differentiate. The Chargers/Bills game is one of the 2 marquee match-ups for this slate making both QBs attractive options. The Chiefs going to Tampa for the final game (only 4:25 start time) of the slate will surely draw a lot of interest as well. Derek Carr may draw some ownership after getting primetime exposure in a game he played well and posted 22 points against a tough Chiefs pass defense (now gets one of the softest). The Patriots got shredded by Watson last week which may draw attention to Kyler Murray in this spot. This puts us at 5 or 6 QBs that should dominate rosters: Murray, Mahomes, Allen, Herbert, Carr, and maybe Brady. I look at Brady as a pivot option in this group, as he should carry lower ownership than the other 5. Some of the other pivots that look interesting are Philip Rivers, Matt Ryan, and Tua Tagovailoa.
The Titans already lost their home game against Indianapolis and now the two are tied for the division lead coming into this week's game. Philip Rivers threw for 300 yards and 1 TD, ceded a rushing TD each to Brissett and Hines, and the special teams scored one. This is one of the 50+ point games on the main slate and could play out to be a slower game than the previous meeting, which is typical between the second meeting of the season between division rivals. Or, this game can play out the way it looks on paper where Indianapolis has the advantage in pass-blocking more so than in the run game and Reich has Rivers throwing another 39(ish) times to match what Tennessee is allowing (on average) per game to their opponents. The Titans are allowing 2.1 passing TDs per game with a multi-TD passing game happening against them at a 70% rate. If the Colts come out firing and take a multi-score lead early, then they can try and force the Titans into more of an aerial attack, which they are better suited to defend than 30+ poundings from King Henry. The group of QBs in Rivers salary range are going to go overlooked giving us a sneaky option and a way to spend salary differently than our competitors.
Matt Ryan and the Falcons got smoked last week in a game everyone was paying attention to because of Taysom Hill. They are at home against a Raiders defense that is just as easy to attack on the ground or through the air. The ground game is not something Koetter can commit himself to for an entire game. The Atlanta defense is better at stopping the run and if they are successful in slowing the Raiders running game down some it will force this into a QB's game. While the field will like the Raiders in this spot, we can gain leverage by taking the other side who are used to playing on their dome surface. Julio will need to be healthy for this to be a good spot to play Matt Ryan, and if he is a go, then I'll like a Ryan/Julio/Ridley/Waller stack of some kind.
Tua Tagovailoa was benched last week but gets his starting spot back in a dream matchup against the Jets secondary. Tua will be able to apply the lessons he came away with after the benching and get to work against young corners from Washburn, Memphis, Virginia, and Nebraska. Everyone should be open for Tua to get the ball out quickly and build back his confidence. Daniel Jones has had a week to self-scout and get himself back on track. Jones has now gone two straight games without a lost fumble or interception. He also has an OL that will be under more direct influence from Joe Judge, which may or may not be a good thing but they should at least have their poop in a pile for one game here. Jones has rushed for more than 45 yards in 4 games this year. That puts him well behind Murray and Jackson but he's ahead of guys like Newton, Allen, and Watson in rushing yards this year. That's a nice floor booster and the opponent this week (Cincy) is not that tough to throw the ball around the yard on. Baker Mayfield is not a guy I normally look to play but the Jags are another team so thin in the secondary we have to consider the QB/passing game of their opponent. Mayfield is a salary-saver play with some upside as a pivot away from Ryan Finley, who is $300 cheaper. Not sure I'll try Mayfield this week but he made the early radar scanner. If the Ravens/Steelers game plays, then Robert Griffin will garner some attention at $4100, especially in cash games. He's a great salary saver this week with the potential for 15-18 points but I'm not sure I'll play him in more than one lineup.
RUNNING BACKS
BEST BETS: Dalvin Cook
PIVOTS: Derrick Henry, Nick Chubb, James Robinson, Ronald Jones, Raheem Mostert, Gus Edwards
PUNTS: Myles Gaskin/Matt Breida, Wayne Gallman, Nyheim Hines, Ty Johnson
Looking at the RB list this week, it's hard to find a RB that has a clear path to outscoring Dalvin Cook, except for Christian McCaffrey (but he seems doubtful to play). Both guys are in the same game and, if we're splitting hairs, I might like CMC better for the additional passing game work he sees (if he miraculously plays). Both backs are exceptional options for this slate and their $9k price tags will just have to be the cost of doing business. Alvin Kamara ghosted last week with Taysom at QB. He only saw 1 target and Taysom is likely to take off for a TD before Kamara gets any cracks at a run inside the 5-yard line. Last week was a very opponent and new QB specific game plan but the setup here still isn't good enough to pay up for Kamara right now and I'll probably have no exposure until his price adjusts, or he sees his usage come back to what it was. Derrick Henry ran for 100 yards against the Colts a couple of weeks ago but he didn't score any TDs, which held his score just under 15 DK points. Henry did not go onto the field after the 12:43 mark in the 4th quarter and only had 18 of his yards during the 4th quarter. If this week's game is closer, he should be on the field in the 4th quarter and he will likely be a big reason they are still in the game. Henry is not for the faint of heart, as his target counts are typically low, but he has the ability to break off long TDs runs that could put him up in the scoring range of what Cook and CMC are expected to produce. Josh Jacobs might end up chalky this week and I'm not that high on him. He scores well (overall) in the RB matrix but his specific categories don't pop, ie. the rushing stats/metrics. Atlanta is better to target with a pass-catching RB, which Jacobs/Gruden has yet to establish him as. Jacobs is now listed on the injury report with a hip injury. He had a hip injury during weeks 3 through 5 and scored 10, 10, then 22 points those weeks – with the 22 points requiring 2 TDs. In fact, the only 3 games Jacobs has scored more than 20 points has required 2+ TDs. Atlanta has only allowed 4 rushing TDs to RBs this year, so we would have to expect Jacobs to either catch TDs or be the first RB to score twice in one game against them for him to be worth playing this week.
Nick Chubb is a 20-toting, 100-yard-getting machine. With some luck, he'll have a multi-TD game in this spot. Even 1 TD still should put him over 20 points but Jacksonville is allowing 1.3 rushing TDs per game and a 40% multi-TD rate so the possibility looms for two trips to pay dirt. Similar to Henry, Chubb is capable of breaking a long TD run and has back to back weeks with a 50+ yard carry. The Jaguars defense is among the top 3 defenses in 20+ yard rushes allowed this year and tied for 5th with 13 rushing TDs allowed. With Cleveland usually content to run the ball for as long as possible (52% rush rate – tops in the league) it should allow Jacksonville to rely more on James Robinson than they've been able to over the past few weeks. The Browns are not an easy team to run the ball on this year, so there's risk associated with Robinson, but he has handled 47 of the 54 RB opportunities (carries and targets) from the Jags backfield over the past two weeks with Thompson out. It should be noted that his target percentage was reduced some last week with Ozigbo's return. That may be a one-week blip or it could be the start of a new trend. However, he has handled 100% of the RB carries the last two games (and 6 of the 10 games) and has seen 56% of the RB targets for the year, including when Thompson was on the field. Robinson's 19 total opportunities last week were the lowest of his last 4 games (could be opponent related – Steelers are tough on RBs), and on the year Robinson has handled 85% of all RB opportunities with a 96% carry share. Ronald Jones comes with quite a bit of uncertainty. Will Tampa try to run the ball? Will RoJo get hidden on the bench again? However, looking at the way teams have tried to attack the Chiefs over the past few years, it starts with the run. Control the game, keep Mahomes on his sideline, and get it into the 4th quarter so he can beat you with whatever time you leave him. This isn't exactly how the Chiefs opponents draw it up, but it's what's happening. If Arians/Leftwich come up with a run-oriented game plan then RoJo will be a big factor. Problem is, they seem to like it better when Fournette drops passes than Jones. Perhaps this draws out some LeSean McCoy in the passing game against his old squad. I'm not comfortable rostering Jones this week but I am going to consider it. He's averaging 4.9 yards per carry and after last week's game, he'll go nearly un-rostered. I'm watching beat reports on Raheem Mostert to see if he's active for this week and if the indication is he'll step back into his typical workload (~15 carries and 2 or 3 targets). Among all the injuries to the 49ers players this year, Mostert's absence has been one of the more impactful ones. @DavidLombardi tweeted out a graphic and link to an article illustrating how much better the 49ers running game has been with Mostert on the field. If Mostert is a full go, then I expect him to get plenty of opportunities against a Rams pass defense that Mullens will struggle with forcing Shanahan to run the ball and throw to Mostert in space and let his explosive speed try to accumulate yards for the 49ers.
As of now, Dobbins and Ingram are on the C19 list leaving Gus Edwards as a solid play at $5200. With RG3 starting at QB, Roman may install a run-heavy approach in this game and ask the OL and RBs to move the ball.
Even with Breida back on the field, the Dolphins went with Salvon Ahmed as the lead back against Denver. Ahmed was on the field for 66% of the available snaps and handled 82% of the RB opportunities. Kalen Ballage looked like LaDainian Tomlinson seeing 9 targets from the Chargers backfield last week against a wrecked Jets defense. The Chargers threw to RBs a total of 13 times against the Jets and teams are averaging 8.3 targets to their RBs against them. Ahmed's 6 targets and primary ball-carrier role make him an interesting option this week. Note: after this section was written Ahmed got ruled out. Waiting to see who starts between Gaskin and Breida. Either guy will be in my pool this week. Wayne Gallman has handled at least 13 opportunities and scored at least 1 touchdown over the last 4 Giants games. He's averaging 4 yards per carry and will face a defense that has allowed 5 yards per carry (2nd-most) to their opponents this year. Nyheim Hines is the same price on DraftKings as he was in the game he went for 28.5 points against the Titans two weeks ago. Taylor will get every opportunity to take the lead in this game but if he fails again the Colts know who they can rely on in the passing game (which sets up better) and overall. Digging deeper, to minimum price, there's Ty Johnson playing for a Jets team that is down to Frank Gore and, well Ty Johnson. Johnson will handle some of the carries, but more importantly, he'll get the targets from this backfield. He was minimum price last week and saw 6 targets. Unfortunately, he only converted that work into 5.7 DK points. As the process of this article carried on, the Baltimore/Pittsburgh game was moved from Thursday to Sunday.
WIDE RECEIVERS
BEST BETS: DeAndre Hopkins, Keenan Allen, Tyreek Hill
PIVOTS: Panthers WRs, DeVante Parker, Antonio Brown, Jamison Crowder, Sterling Shepard, Michael Pittman, Tyler Boyd
PUNTS: Nelson Agholor, Marquise Brown, Josh Reynolds, Damiere Byrd, A.J. Green
DEEPER PUNTS: Denzel Mims, Andy Isabella, Christian Blake, Gabriel Davis, Chad Beebe
The Patriots have been struggling against good receivers lately. Some of that has to do with Gilmore being out, but even last week with him they allowed both Fuller and Cooks to go for 80 yards apiece. The Patriots are allowing the 6th-most passes over 20 yards (36 total) and 6 of those have gone over 40 yards. When you filter by weeks using the Air Yards tool over at FTN, you can see DeAndre Hopkins aDOT increasing as you start peeling away those first few weeks. Now, with Larry Fitzgerald on the C19 list, it's probably safe to assume Hopkins sees a slight bump to his 29% target share. Christian Kirk and Andy Isabella may be more likely to take advantage of the deep targets but Hopkins may still get some shots there, too. The weakest link at corner for Buffalo is their slot corner, Taron Johnson. He'll have his hands full trying to stay with Keenan Allen this week. According to PFF, Johnson is allowing an 80% catch rate and 1.59 yards per route covered. Another receiver with a great slot matchup this week is Tyreek Hill versus Sean Murphy-Bunting, who is allowing an 82% catch rate against. The Bucs could also be without starting corner Jamel Dean, which could mean they try to have Carlton Davis shadow Hill, but he may not trail Hill into the slot very often if they do try to have him shadow. Hill has been getting significant volume these past two weeks and has produced 2 straight 30+ DK point games with that volume. This is a big game for both teams, so I'd expect his volume stays consistent with what it's been lately.
Teddy Bridgewater has a narrative game heading back to play in Minnesota this week. Teddy doesn't carry a high enough ceiling for me to want to spend $6300 to roster him but I like his WRs. D.J. Moore is heating up with two good games in a row and he carries the highest aDOT of the bunch. That deep role has helped him finally break out and should carry over well into this matchup with the Vikings secondary allowing 2.2 passing TDs per game, 70% multi-TD rate, and 3rd in completions over 40 yards (7 total). Robby Anderson is handling the intermediate stuff and sees decent volume but the production has been limited for the past several weeks. Anderson doesn't have a TD since Week 1 and his last 100-yard game was in Week 5. He's the contrarian play o the bunch. With CMC out again, it boosts Curtis Samuel's role as an option out of the backfield to go along with his dink and dunk targets. His usage is short but creative and allows him plenty of TD opportunities. The Dolphins have a dream match-up against the Jets corners this week. Devante Parker is the best of the group and most likely to catch a touchdown (or two) but they also have some cheaper plays to consider. Jakeem Grant is $3700 and Malcolm Perry (listed as a RB on DK) is $4000. Both guys were on the field for at least 78% of the snaps last week with Perry seeing 5 targets. Perry is the least optimal play because we have to use the RB position to play him and Grant is cheaper. If I'm playing Tua, then I more than likely stacking him with Parker or Gesicki (maybe) but there may be a reason to pay down for Grant if the rest of the build looks good when doing so.
The Buccaneers offense has looked shaky at times this year, which was the case again last week. This leads me to believe they tweak the offense a bit this week and stop asking Tom to throw deep. Instead, he will likely hone in on two guys he knows he can trust: Antonio Brown and Gronk. The Chiefs secondary has been terrific this year but the Raiders have given teams a look (twice) at how to move the ball against them. Brown's crafty route running and overall skill-set could have him seeing a heavy target share from Brady here. Jamison Crowder has his favorite QB back this week in the Adam Gase revenge game, Part Deux. Crowder and Darnold have had a nice connection dating back to last year but have only been on the field for 2 games together in 2020. Crowder had 23 targets, 219 yards, and a TD in those two games. Darnold having all his weapons healthy should help keep the defense from keying in on Crowder as much and could allow his targets to pop back into double digits for the price of $5400. Sterling Shepard has a great matchup against LeShaun Sims, who is allowing the 3rd-highest yards per route covered and a 78% catch rate. With the extra week to prepare and the likelihood I run at least one Danny Dimes line, Shepard will be my WR to pair with him, or as a solo piece in other lines. If the Colts take advantage of the matchups in the passing game then Michael Pittman could have another game like he did last time he faced the Titans. That was Pittman's breakout game where he caught 8 passes for 101 yards. He followed that up with his first TD catch last week. Rivers is building rapport with his big receiver, as he did with other big guys like Keenan Allen, Malcolm Floyd, and Vincent Jackson. Tyler Boyd at $5000 is just stealing. There's no way Darnay Holmes can cover Boyd. Even with a new QB dealing in Cincy Boyd should still produce a solid 3x score, if not more.
Nelson Agholor has had good games against some tougher opponents this year and has been okay in a few others. He'll likely be matched up with Falcons rookie corner A.J. Terrell, which is becoming a tougher matchup than it was early in the year. If the Raiders struggle to move the ball on the ground against the Falcons, which has been the case for many teams this season, then Agholor should benefit. Agholor has been the more reliable deep threat for the Raiders which gives him great upside for the price. Marquise Brown is finally priced appropriately this week due to the tough matchup against the Steelers with his backup QB playing. I've been trying to take calculated shots with Hollywood all year and perhaps this is the week it finally works. There seems to be a theme in the $4k range for WRs: hit or miss deep threats. The next one I like in this group is Josh Reynolds. The 49ers have struggled with deep threats this year and have historically done well against Woods and Kupp. Reynolds may be the primary target on some big-play designs and has an opportunity to hit big if he catches one or two of them. Last week Damiere Byrd had a big game. This could either free up coverage from Jakobi Meyers or start a new sequence for the Patriots receivers after Meyers had his run. With how thin the Patriots are on pass-catchers now, I would guess that Meyers will get trailed by Patrick Peterson which will put Byrd back in the spotlight for this week's game plan. It's crazy to see guys like Hilton and A.J. Green priced in the $3k's and of the two, I like the chances that Green can do some damage in a game where the Bradbury Blanket will likely be covering Higgins and Green getting chances against Isaac Yiadom.
The Dolphins/Jets game is strangely attractive to me this week with so many value plays. One or two of these guys will likely post a solid score for the price and the cheapest bet is Denzel Mims. In the first game Mims played with Darnold, he saw 7 targets. Mims has yet to post much more than a 10 point game so far, but if playing around with Miami/NY stacks, or if just looking for a cheap WR Mims is there. Down in the minimum price bargain bin, we can find guys who will have larger roles due to injuries ahead of them. Andy Isabella is interesting because he's a deep threat from the slot position that will match up with the weakest corners for New England. Christian Blake would be interesting if one or both of Atlanta's dynamic duo were to miss. He was on the field for 60% of the snaps last week and saw 4 targets. Gabriel Davis gets the extra snaps when John Brown is out, which is expected to be the case this week. He's had 9 targets in a Week 5 game with Smoke out of the lineup. Chad Beebe will see the field more and will likely get some targets if Adam Thielen does not make it off the C19 list this week. All defensive attention will be on Jefferson giving Beebe a path to putting up some points.
TIGHT ENDS
BEST BETS: Travis Kelce, Darren Waller
PIVOTS: Hunter Henry, Rob Gronkowski, Noah Fant
PUNTS: Jordan Reed
Tight End has some strong plays this week with the top two of Travis Kelce and Darren Waller each in spots they can smash. Kelce is taking on a Bucs defense that allows league-average TE fantasy scoring but above-average targets of 8.1 per game allowed to the TE position. The Bucs will be without their fastest corner (dean) and will need to commit Winfield over the top of the defense to account for the speed of the Chiefs WRs while Whitehead and the LBs try to slow Kelce down. Waller gets a defense allowing the 2nd-highest bump to TE scoring but allows a lower target rate than the league-average. That average will tick up with the way the Raiders and Carr rely on Waller. The TE that is in the best "on paper" matchup is Hunter Henry. Henry has seen a consistent diet of 6-8 targets in most games while not really having a huge fantasy impact. The Bills 3.5 bump to TE scoring is the 3rd-most in the league and their 24.0% TE target rate allowed is the highest.
As mentioned when covering Antonio Brown in the WR paragraphs, I am looking at the Tampa offense trying to get clicking by letting Tom do what he's best at, relying on guys he has built trust in. Antonio Brown will likely see the majority of targets between the twenties while Rob Gronkowski and Evans get the end-zone looks. If Gronk gets more looks due to the Chiefs corners playing as well as they have for most of the year, then Gronk could feast in this spot. Noah Fant should also see an uptick in targets against a Saints defense that allows the 6th-lowest rate of targets to the WR position. The Saints defense started the year by allowing a TD catch by a TE in 5 straight games but has since held TEs out of the end-zone for their next 5 games. Fant may not score but he should rack up catches and yards at the more palatable range of TE pricing this week. In the $3k range of TE pricing, there is Jordan Reed who's facing a Rams team that smoothers WRs and funnels the work inside to the TEs and RBs and Trey Burton. With the status of Aiyuk and Deebo still up in the air, Reed may be in for a sizable workload – assuming his illness does not prevent him from playing.
DEFENSE/SPECIAL TEAMS
BEST BETS: Dolphins, Steelers
PIVOTS: Saints, Browns
PUNTS: Vikings, Broncos
Any defense facing the Jets struggling offense is worth a look. The Dolphins come in at the height of DST salary this week, which is a mild turn-off, but the way they have been playing is creating sacks and turnovers and the Jets are prone to that. If the Steelers get to play this week they should handle Griffin and the Ravens with relative ease. The Steelers defense leads the league in sacks (38) and interceptions (15). The Denver OL vs the Saints DL is a major mismatch in favor of the Saints. The net Adjusted Sack Rate equates to 8.5%, tops for the main slate. Drew Lock is young and making mistakes which will give the Saints defense plenty of opportunities for a defensive touchdown. The Browns are down several defensive starters, but their opponent is down several key offensive starters. The Browns defense has been playing very well in their past 2 games and should be able to handle Mike Glennon and the Jags back-ups. The Vikings coaches and some of the defenders know what's coming when Teddy B returns to Minnesota this week. This could give them an edge to pick up an interception or two, and possibly grab some sacks. Vic Fangio may be able to draw up a defensive game plan for the Broncos to confuse Taysom hill a bit and force him into some mistakes. With guys like Kamara and Thomas dinged up, it might be worth a punt with this group.
FINAL THOUGHTS
As of right now, it seems the Ravens/Steelers game may be moved to Tuesday, which would take those players out of this week's main slate pool. There are also some injury situations to continue to monitor as kickoffs near. In Miami, the starting RB is either going to be Miles Gaskin or Matt Breida. Whoever it is, I'll be interested. In San Francisco, we need to monitor Mostert's health, as he is the key to that backfield's success. If Todd Gurley were to miss this week's game, I may add Brian Hill to the player pool as a pass-catching back that could give the Raiders some trouble. The article is usually released before final injury reports and the best way to keep up with my adjustments to the news as it comes would be to follow along with my player pool or ask me questions on Twitter @majesstik1. Best of luck this week and thanks for reading!
Check out our latest video tutorial on how to create your own custom Fantasy Football Projections! This detailed video tutorial walks you through how to use FantasyData's projections to create a custom projection tool that requires little upkeep week to week for you to gain an edge in fantasy leagues and daily fantasy slates.
The best part is FantasyData currently has a Black Friday Sale on its season passes!! Get 30% off Season Passes at FantasyData this week for the remainder of the NFL 2020 season. But hurry, after Cyber Monday ends (11-30), so does the savings!