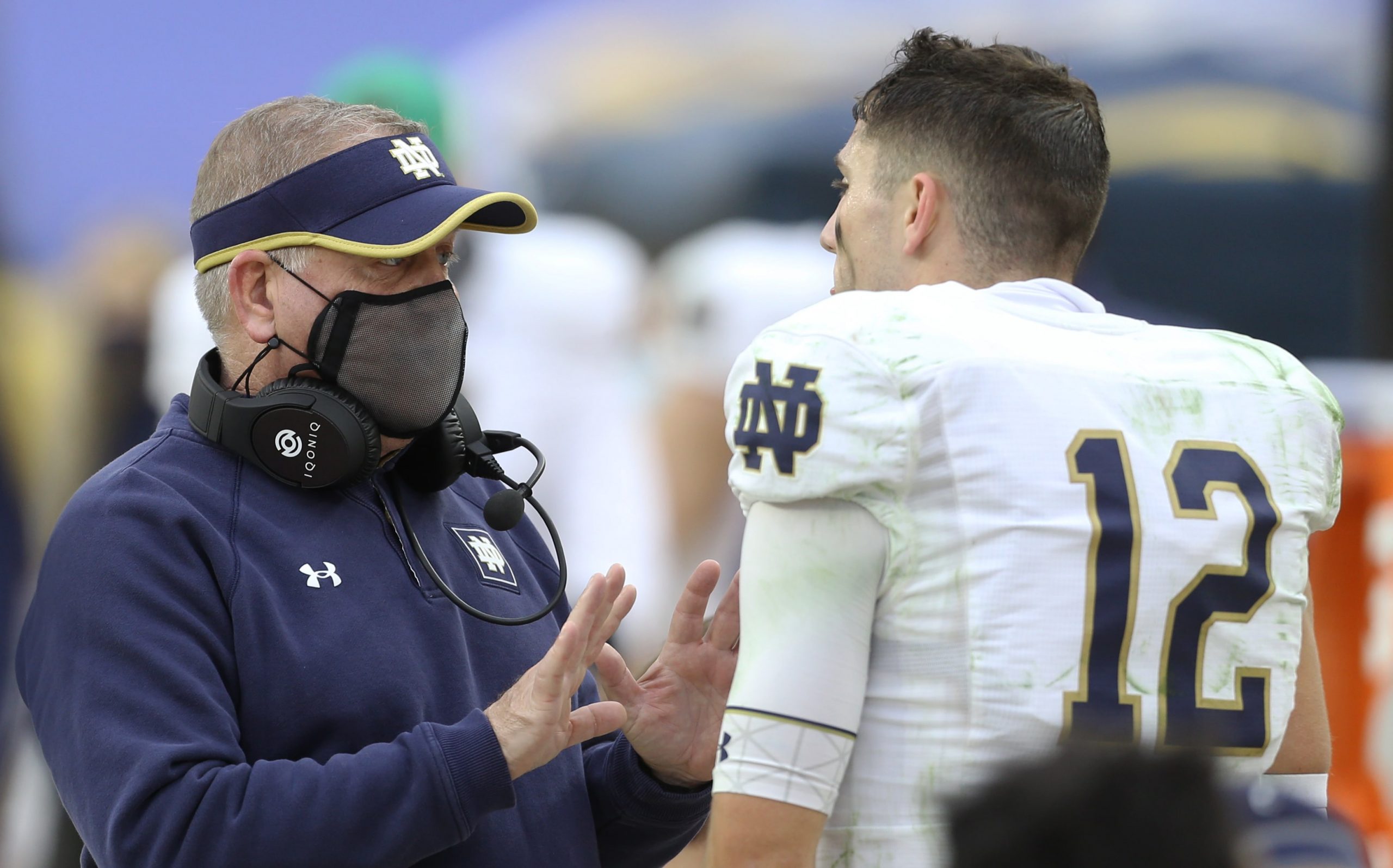 College football lines are out for Week 10, and it's great to have all the conferences back in action. The PAC 12 is making its 2020 return this weekend, and it's been very interesting to see how oddsmakers approach those games with nothing much to go off of.
You can often get the most value early in the week by exploiting opening lines before they get adjusted too much by sharp action, and today we'll be looking at the lines for all the biggest games this weekend. As always you can check out our 'NCAAF picks' tab for free breakdowns on all the biggest games, which are usually posted by Wednesday.
College Football Week 10 opening lines
#11 Miami (-10) @ NC State
#9 BYU (-2.5) @ #21 Boise State
#23 Michigan (-3.5) @ #13 Indiana
Arizona State @ #20 USC (-10.5)
#8 Florida @ #5 Georgia (-3.5)
Purdue @ #10 Wisconsin (-8.5)
#7 Texas A&M (-9.5) @ South Carolina
#1 Clemson (-5.5) @ #4 Notre Dame
Stanford @ #12 Oregon (-11)
This week presented some really tough decisions for oddsmakers. First off the PAC 12 is back in action, which presents a lot of unknowns. Oregon is the preseason favorite in the conference, and oddsmakers have them as a double digit favorite at home against Stanford. USC is another contender for the conference title, and they too have been installed as a double digit favorite in their opener against Arizona State.
Not only is the PAC 12 back this weekend, but there are several high profile quarterback situations with a lot of uncertainty. Trevor Lawrence isn't going to play for Clemson, which certainly isn't what the house was expecting when they had this massive game with huge playoff implications circled. It'll be interesting to see how Lawrence's absence will effect the betting volume as well.
Wisconsin on the other hand might be down to their fourth-string quarterback or a wildcat offense after a COVID-19 outbreak in the quarterback room, making that game extremely hard to handicap. Do you think Wisconsin's offense is going to be horrendous, or have oddsmakers overcompensated with this line?
Do I like any of the opening lines?
A couple of these are intriguing to me. I think now is the time to take advantage of some PAC 12 lines, and I don't think this Oregon team is as good as some people seem to think. On the other hand I love getting double digits with David Shaw, and that's not something you see all that often. Oregon is going to struggle to replace Justin Herbert, who is now lighting it up in the NFL. I think he masked a lot of their deficiencies.
I also lean toward Florida in their big SEC showdown against Georgia. A lot of people hopped off the Gators' bandwagon after their loss to Texas A&M, but I'm not holding a three-point road loss against them too much. Another loss by a field goal would be enough to get us to the window here, and I just don't have confidence this Bulldogs offense can keep up with Florida's. The Gators have scored at least 38 points in every game this season, and Georgia just doesn't have that kind of upside.
When do the lines open?
Most legal online sportsbooks post their lines on Saturday night after the week's games or on Sunday morning, with limits increasing throughout the week as it gets closer to kick off.
Who sets the college football opening lines?
Oddsmakers launch their opening lines as an educated guess at where they think the line will attract action on both sides. Early line movements usually indicate sharp action. Even though limits are small, sharps are the first ones thinking about opening lines. The lines will continue to move as the week goes on, limits increase, and more information becomes available such as injury reports and weather forecasts.
At Pickswise we offer free expert College Football Picks and Predictions for all games in the Power Five conferences and the top 25 teams outside of Power five, including our College Football Parlay picks each week.
Last updated: Mon 2nd November 2020