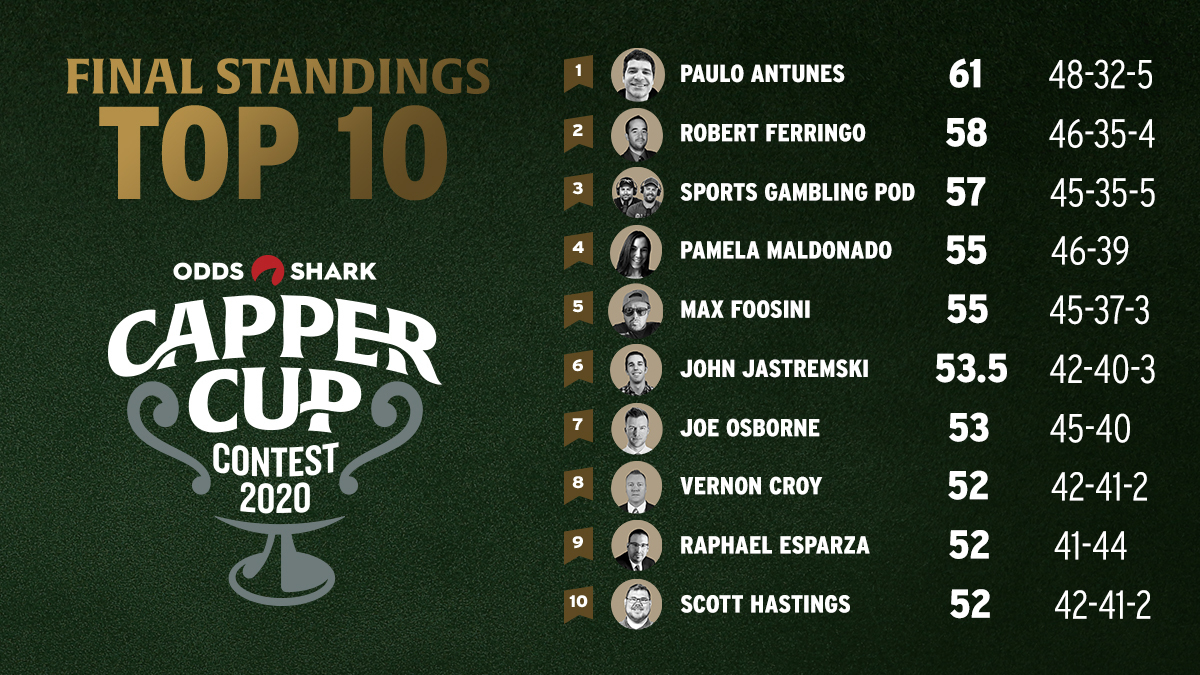 LAS VEGAS — C'MON out to Vegas when the COVID-19 is done, because we're gonna have a FREAKIN' CARNIVAL on the Strip, with the Brazilian Samba Man, Paulo Antunes from Team Odds Shark, in the lead float.
Season Recap
It might not be the gorgeous sandy beaches of Rio de Janeiro, but the Vegas Strip cleans up pretty nice. Also, if you hit me early, I can probably get you some fabulous room deals. I would expect that Mr. Antunes would find a spot for me on the float, since my weekly recaps and look-aheads gave him a YUGE push to the penthouse. Actually, I had nothing to do with Paulo's dash to the crown, but this is Vegas, baby, and everybody is looking for a COMP!!!
Paulo took home the crown in the first annual Capper Cup with a fabulous 48-32-5 overall record. And his 61 points banished Robert Ferringo to second place. Rockin' Robert from Doc's Sports finished up at 46-35-4 and 58 points, with the boys from the Sports Gambling Podcast, Sean Green and Ryan Kramer, grabbing the third slot with a 45-35-5 mark and 57 points.
In the fourth spot, gotta say I'm happy to see my guy, [email protected], with a 45-37-3 record and 55 points. I jumped all over Max when he started the contest with a loud THUD, but man, he was all steam down the stretch. Even made fun of his ALL-CAPS Twitter handle, but Max didn't back down. He rolled up his sleeves and won the hearts and minds of his followers.
Rounding out the top five is the First Lady from Team Odds Shark, Pamela Maldonado, who showed the boys in the Capper Cup what's what, finishing with a 46-39-0 record and 55 points. Exceptionally PROUD of this lady, and if you have not hit Pamela's videos, get on the Maldonado train, people, because it's gonna be making multiple stops at the BANK with multiple WINNING selections!!!
We've also talked about man vs machine during the season, and the Prediction Machine finished just outside the top 10 with a 42-42-1 record. With a few tweaks and some more super-secret technology, expect the PM to rally in 2021.
So, this was the first Capper Cup, and a BUNCH of customers found their wallets getting very fat. Just imagine what's in store for the 2021 NFL season. WINNING, BAABBBEEE!!!
You can find a list of all the final standings right here.
Benjamin Eckstein is a nationally syndicated sportswriter/oddsmaker. His column, America's Line, with the Ecks & Bacon appetizer, has run in the New York Daily News and over 100 other papers since 1988. You can follow him online at www.americasline.com. He is beloved by most, when he picks winners, and detested by others, when he picks the occasional loser. If you wanna piece of Eck, hit his email…[email protected]