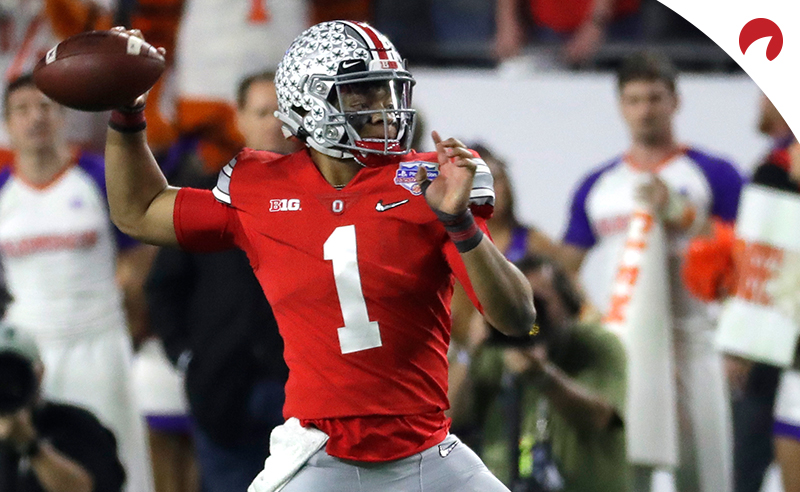 The Big Ten tried to break our hearts with the announcement that the conference would be postponing fall sports, including football, due to the COVID-19 pandemic. However, on September 16 this decision was reversed and play will resume in late October with a shortened eight-game season. The Ohio State Buckeyes are at the top of the list of the Big Ten championship odds.
BREAKING: Big Ten Conference reverses course, announces plans to play football beginning Oct. 24 weekend; 8-game season for each team. https://t.co/1LWQYpBx3z

— AP Top 25 (@AP_Top25) September 16, 2020
Online sportsbook Bovada had listed the Buckeyes as the favorites at -225 in late April. They were followed by the Michigan Wolverines at +350, the Penn State Nittany Lions and Wisconsin Badgers at +900 and the Iowa Hawkeyes at +1600 to round out the top five teams on the oddsboard.
See Odds Shark's Best NCAAF Sites
2020 Big Ten Championship Odds
| Team | Odds |
| --- | --- |
| Ohio State Buckeyes | -225 |
| Michigan Wolverines | +350 |
| Penn State Nittany Lions | +900 |
| Wisconsin Badgers | +900 |
| Iowa Hawkeyes | +1600 |
| Nebraska Cornhuskers | +1600 |
| Minnesota Golden Gophers | +2500 |
| Michigan State Spartans | +3300 |
| Indiana Hoosiers | +4000 |
| Illinois Fighting Illini | +5000 |
| Maryland Terrapins | +5000 |
| Northwestern Wildcats | +5000 |
| Purdue Boilermakers | +5000 |
| Rutgers Scarlet Knights | +25000 |
Odds as of April 8 at Bovada
New to the college football scene? Check out our handy college football betting guide to help you get in the action. Also, keep an eye on our College Football Odds page for the latest up-to-date betting lines.
Why Is Ohio State The Favorite?
Last year, the Buckeyes were the team to beat in the Big Ten and finished the campaign with a 13-1 record overall, the lone loss coming in the College Football Playoff semifinal to Clemson. Redshirt sophomore Justin Fields had been among the preseason favorites to win the 2020 Heisman Trophy and he put together a terrific campaign in his first year as a starter, completing 67.2 percent of his passes while sporting an impressive 41:3 touchdown-to-interception ratio, with two of those picks coming vs Clemson.
The Buckeyes will be without star running back J.K. Dobbins as he has made the jump to the NFL, however, Master Teague III performed well in the time he had last year, collecting 789 yards on 135 totes and scoring four touchdowns.
Additionally, OSU had the fifth-best recruiting class for 2020, bringing in three five-star recruits in wide receivers Julian Fleming (No. 1-ranked WR in the nation) and Jaxon Smith-Njigba (No. 5-ranked WR in the nation) and offensive tackle Paris Johnson Jr. (No. 1-ranked tackle in the nation). With weapons around Fields and a fortified offensive line, it's no surprise to see the Buckeyes favored to win the Big Ten and positioned second on the oddsboard to win the national title.
Which Team Is Providing Value To Win The Big Ten?
Last year, I thought that Michigan was the team to beat and, well, I was wrong. This year I won't make the same mistake and I think the Penn State Nittany Lions could be a team to watch. Penn State was actually quite strong last season with Sean Clifford under center for the first time. The redshirt sophomore threw for 2,654 yards, completing 59.2 percent of his passes, and had a 23:7 touchdown-to-interception ratio.
What excites me most about the Nittany Lions is that there was very little turnover from last year and in 2019-20 Penn State finished the season with an 11-2 record and ranked ninth in the AP Top 25.
The Lions also had the 15th-best recruiting class for this season, bringing in 11 four-star recruits, including three wide receivers and a tight end to bolster an offense that scored the third-most points in the Big Ten last year. Not sure if the Lions have what it takes to knock off the Buckeyes but at +900 it's worth a shot.
---
Reading Big Ten Championship Odds
At any NCAAF sportsbook, you'll see futures odds that look something like so:
Ohio State -105
Michigan +250
Penn State +500
Wisconsin +900
The school with the minus sign (-) is the favorite. The rest are underdogs. When there are no minus signs and only plus signs (+), the team with the lowest odds is the fave. If Ohio State was at +105 instead of -105, they would still be the favorite in this scenario.
If you were to bet $100 on the Buckeyes, you'd get a payout of $195.24 – your $100 comes back along with your winnings of $95.24. Or, that same $100 on the Badgers would give you $1,000 – your original money is returned along with your prize of $900. Bets on dogs are riskier, which is why they come with bigger rewards. However, do your research before making any futures bet. Don't take the underdog just because you think you'll get a huge payday. Only take them if it makes the most sense.
To see how much you'd win based on the odds and bet amount, check out our Odds Calculator.
What is a College Football Futures Bet on Championship Odds?
This is a bet made on events that have yet to happen. It can be argued that all bets are on events that will occur in time, but futures bets can be made weeks or even months in advance. As soon as the odds are released, you can place your bet on a team in the Big Ten to win the conference. If you can take the odds early, it's best to do so. The lines will move as teams slip and climb in the standings and you don't want to be stuck with odds that have no value.