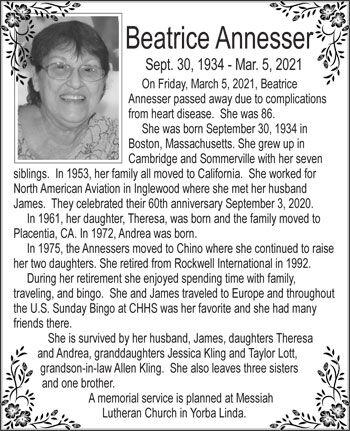 Beatrice Annesser
Sept. 30, 1934 – Mar. 5, 2021
On Friday, March 5, 2021, Beatrice Annesser passed away due to complications from heart disease. She was 86.
She was born September 30, 1934 in Boston, Massachusetts. She grew up in Cambridge and Sommerville with her seven siblings. In 1953, her family all moved to California. She worked for North American Aviation in Inglewood where she met her husband James. They celebrated their 60th anniversary September 3, 2020.
In 1961, her daughter, Theresa, was born and the family moved to Placentia, CA. In 1972, Andrea was born.
In 1975, the Annessers moved to Chino where she continued to raise her two daughters. She retired from Rockwell International in 1992.
During her retirement she enjoyed spending time with family, traveling, and bingo. She and James traveled to Europe and throughout the U.S. Sunday Bingo at CHHS was her favorite and she had many friends there.
She is survived by her husband, James, daughters Theresa and Andrea, granddaughters Jessica Kling and Taylor Lott, grandson-in-law Allen Kling. She also leaves three sisters and one brother.
A memorial service is planned at Messiah Lutheran Church in Yorba Linda.