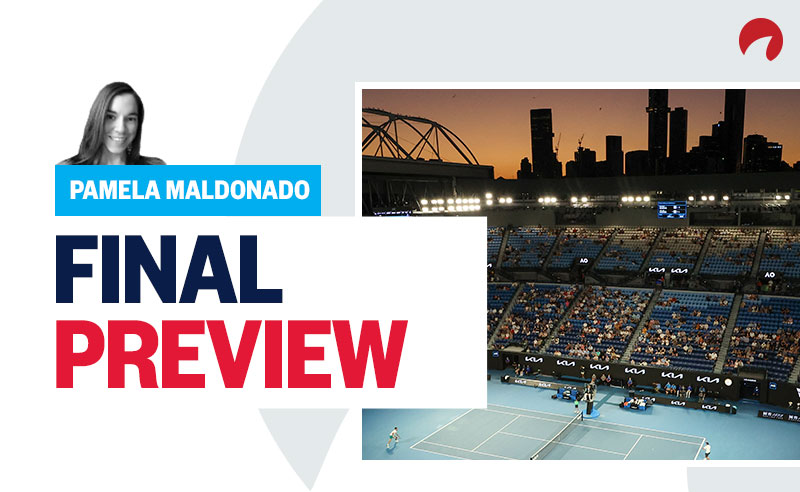 This is shaping up to be a classic.
When you think of some of the greatest matches, you envision the Big Three: Roger Federer, Rafael Nadal and Novak Djokovic. However, the tide is slowly turning with some new blood appearing in finals. At last year's Australian Open, we had Djokovic face Dominic Thiem. Then at the U.S. Open, we saw Thiem defeat Alexander Zverev.
Now, we get the exact final predicted in the 2021 Australian Open with Djokovic against Daniil Medvedev. If you followed the Best Bets offered, then you are sitting pretty with some winning futures tickets in Djokovic to reach the final (-140) and Medvedev to reach the final (+150) and are holding two tickets for either to win.
But now let's see if there's any additional value to extract.
Why Novak Djokovic Can Win
Because it's world No. 1 Novak Djokovic! Yes, that is very talking head but he owns this surface and this tournament with eight Australian Open titles. So, of course he's in the final once again. He hasn't found this much success from his charm.
In terms of what he can do, he is in the best serving form of his career. In only four matches has he ever hit 20 or more aces. Two of those matches have been during this tournament, with 26 against Frances Tiafoe in the second round and 23 against Alexander Zverev in the quarterfinal.
In this tournament, Novak has served up 100 aces, proof that his 2017 shoulder injury is a thing of the past. For context, he served 79 last year en route to his eighth Aussie title and had 334 total in one hard-court season in 2013. He's a third of the way there in just one tournament with one match still to go. His ace-serving ability leaves the door open to pull Medvedev off the court on his return, enabling Novak to start the point aggressively and apply pressure.
Tie in his serving with the opportunity to shorten the point and win more often by utilizing his drop shot and backhand slice, a combination that could spell trouble for Medvedev. We have seen him struggle with a slice shot in the past, particularly in his 2019 loss to Nadal at the U.S. Open. Stefanos Tsitsipas had a bit of this in his semifinal loss to Medvedev this week but couldn't execute fully to his benefit.
An additional plus for Novak is rest. At 33 years old, you could argue that he's still in his prime. However, having one additional rest day after coming off a carefree three-set win in the semis is beneficial. Any bit of extra rest is a positive.
Why Daniil Medvedev Can Win
World No. 4 Medvedev is on an absolute tear. He has 20 straight wins, 12 of which are against top-10 players. He has now defeated every current top-10 player (minus No. 5 Federer, who is out due to injury) since November 2020. If you need a visual, here's a look at his last 20 wins:
Kevin Anderson
Alex De Minaur
Diego Schwartzman (#9)
Milos Raonic
Alexander Zverev (#7)
Alexander Zverev (#7)
Novak Djokovic (#1)
Diego Schwartzman (#9)
Rafael Nadal (#2)
Dominic Thiem (#3)
Diego Schwartzman (#9)
Kei Nishikori
Alexander Zverev (#7)
Matteo Berrettini (#10)
Vasek Pospisil
Roberto Carballes Baena
Filip Krajinović
Mackenzie McDonald
Andrey Rublev (#8)
Stefanos Tsitsipas (#6)
That's a pretty remarkable achievement and his success in this tournament is adding to that. He has dropped just two sets at this Australian Open and both came in the same match in the third round against Krajinović.
What's made him so deadly? Like Novak, also his serve. He's had 73 aces in this event, averaging a first-serve percentage of 63. The one match he dropped below 60 was his third-round hiccup. I've always said that what can beat Novak is a taller version of Novak and that's Medvedev. His length and reach truly makes it difficult to win off your serve. Djokovic may be the best returner in the world but Medvedev is making a case to be co-favorite.
What could help Medvedev is his stamina. He's coming into this match with fresher legs. Novak has an extra day of rest but he has played three four-set matches on top of a five-set match.
Medvedev will want to employ the strategy of extending the points but not so much that it gives Novak rhythm. If he can employ some variety by coming into the net with some good approach shots, he'll have a fighting chance. Controlling his nerves will be key. A lot is at stake here.
Medvedev is playing for his first Grand Slam title and a win would move him up to No. 2 in the world rankings. Nobody not named Djokovic, Federer, Nadal or Andy Murray has been in the top two in men's tennis for 16 years!
This is a tough mountain to climb.
Prediction
The game spread doesn't offer any value as it's basically a moneyline bet. If you are like me and holding two futures tickets on either to win, then there's really no reason to add to a +450 on Medvedev futures.
The only option I see is Medvedev +1.5 sets (-205). Yes, it's a bit more juice but it's really tough to see Novak winning in straight sets. In six matches played so far, four have seen at least four sets played. As dominant and confident as Medvedev has been, it's tough to see him losing 3-1.
I envision one of two things happening. Either Medvedev wins in four, or in the more likely scenario, this is going a full five and I'm not sure who wins because at that point, experience and mental toughness come into play and that's where I give Novak the edge. Either option covers the +1.5.
Djokovic is the world No. 1 but I think at this moment in time, Medvedev is the best player.
Pick: Medvedev +1.5 sets (-205)
If that's too much risk, then I see Djokovic ML (-115) as the next best option. Having lost to Medvedev at the ATP Finals, he'll come into this match knowing what to expect and how to adjust.
Then looking at the level of competition he has faced to get here, he's ready. His serve is the best it's ever been and his experience and mind will most certainly come into play.
Best Bet: Djokovic ML (-115)