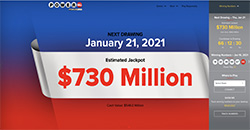 Lottery players in the United States are reported to be rushing to buy tickets for the next Powerball lottery draw, as the jackpot has risen to an eye watering ¢730m, the first time it has hit this size since March 2019, which was finally won by a 24 year old from the state of Wisconsin the following month in April 2019.
With the next draw to be held on Thursday of this week, if won the jackpot amount will make the winner the fifth ever largest lottery winner in the entire US. However, the Powerball is not the only lottery in play this week offering such a potential mammoth jackpot prize. with tomorrow seeing the Mega Millions draw taking place.
The Mega Millions which has been in operation in 1996 where it started out called 'The Big Game' is a US multi jurisdictional lottery game which can be played by residents of 45 states. With the latest draw scheduled to take place at 11pm Eastern Time tomorrow, the jackpot on offer even exceeds that of the Powerball, with an $830m jackpot prize up for grabs.
If the Mega Millions jackpot is won, this will make it the third highest ever lottery jackpot won in the US.
It has been nearly two years since a lottery jackpot has grown to the sizes on offer with the Powerball and Mega Millions and no doubt it is causing some welcome distraction from more sobering news happening in the US at the moment.
However, the chances of striking it rich on either lottery is still small, with matching six numbers on Mega Millions being a long 1 in 302 million. Don't despair though, as the odds of hitting the heady jackpot on the Powerball is slightly shorter, coming in at 1 in 292 million!
If either jackpot is won, winners have the choice to be paid out over a number of years or take an instant cash prize. As it stands and accounting for taxes on the respective jackpots that the winner(s) would be liable for, this works out at $546m in cash for the Powerball and $628.2 million for the Mega Millions.
If you decide to purchase a ticket for either or both draws, best of luck!